One Year After Sandy, City Hospitals Continue Restoration Work and Planning for Future Disasters
Electrical Systems Relocated and Flood Barriers Prepared as Hospitals Ready Themselves
Oct 24, 2013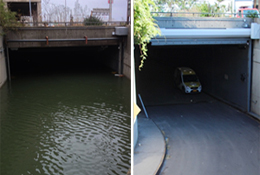 New York City Health and Hospitals Corporation (HHC) President Alan D. Aviles was at Bellevue Hospital Center today almost one year after Hurricane Sandy to review major repair work on electrical systems and other critical areas, and to urge FEMA to make funding available for the long-term mitigation of potential future storm damage at vulnerable HHC facilities including Bellevue, Coney Island Hospital and the Coler Specialty Hospital and Nursing Facility.
"There's been a flurry of activity over the last 12 months not only to repair, restore, rebuild and replace areas that were damaged, but also to be better prepared for the next storm," said HHC President Alan D. Aviles. "We have worked within the guidelines of Mayor Bloomberg's 'Special Initiative for Rebuilding and Resiliency' to create an effective plan. But we rely on FEMA to fund projects that will make our hospitals able to endure future storms with minimal service interruptions."
The Cost of the Storm
HHC estimates that the impact of Hurricane Sandy on the New York City public hospital system will exceed $800 million to cover response, repairs, and the work required to mitigate future flood damage. To date, HHC has paid $198 million for repairs, including $100.5 million at Bellevue and $50.1 million at Coney Island Hospital. It has received $61 million in FEMA emergency funds to reimburse it for repair work and another $181 million in Community Development Block Grants from the federal Department of Housing and Urban Development for other extraordinary expenses that HHC incurred while its facilities were out of service.
The majority of the FEMA funds for repairs are being directed towards electrical, water, heating, communications systems and patient care areas at Bellevue, Coney Island and Metropolitan hospitals, and the Coler Specialty Hospital and Nursing Facility.
Long-Term Mitigation
HHC is actively examining the effectiveness and cost-efficiency of a number of long-term measures to protect its facilities and to minimize service disruptions in the event of another storm of Sandy's magnitude. The scope of the plans includes permanent flood walls to protect facility perimeters, and the repositioning and hardening of internal systems such as generators, chillers, boilers, steam, and plumbing and medical gas delivery systems. Raising parts of facilities above flood level, and a new, elevated building at Coney Island Hospital, are also being examined and will be contingent on FEMA funding.
"Long-term, to ensure continuity of service delivery at these important facilities, the best and most efficient solution may be the raising of emergency departments and critical systems above flood elevations," said Mr. Aviles. "At Coney Island Hospital, the most cost-effective solution may be a new, elevated building where the emergency and other departments can be located, along with generators and equipment. We intend to actively seek funding for these long-term items under FEMA's Section 406 Hazard Mitigation Funding, and we urge FEMA to prioritize these requests so that New York City's public hospitals will be prepared for next hurricane season."
Improving Communications
A combination of power outages and other utility disruptions made communications difficult during Sandy. HHC has acquired a new communications system that can send alerts to any number of staff members simultaneously through multiple channels. HHC also has a new web-based incident command system that connects its central office and hospital-based command centers, and can track and prioritize requests for supplies and other resources. The new communications systems and other emergency protocols are being tested through a series of planning exercises at HHC facilities.

Repairs and Short-Term Preparations
At Bellevue, where an estimated 8.5 million gallons of water flooded the basement during Sandy and forced the facility to close two days later, large sections of the hospital's basement have been restored and new heating, ventilation and air conditioning equipment has been installed. Electrical switchgear that was destroyed in the basement has been replaced with new state-of-the-art gear and moved to three locations on the first floor, above FEMA's advisory flood elevation.
With the goal of preventing future flooding, Bellevue has also installed removable flood barriers at its two loading dock entrances facing the East River. It is estimated that 90 percent of the water that flooded Bellevue came in through the loading dock area. Bellevue is also raising its drinking water pumps and the fuel pumps for its eight generators out of the basement and to higher elevations. It is also examining ways to protect some of its 32 elevators from future flood damage so that limited vertical transportation can be maintained in the 22-floor facility.
Coney Island Hospital in Brooklyn was forced to close on October 30, 2012, after Sandy's floodwaters inundated its basement and also entered its first floor, severely damaging its emergency department, imaging services, and numerous public and administrative areas. Its emergency department and several other first floor areas have been restored, and repairs and restoration elsewhere are soon to be completed.
Electrical switchgear that was ruined in the basement has been replaced on a new elevated platform adjacent to the hospital. Imaging such as CAT scans and MRI's are being provided in temporary trailers until permanent imaging locations are rebuilt. And to help minimize flood damage from future storms, the hospital has acquired temporary barriers systems that can be erected in advance of a storm around its emergency department, main entrances, and around its generator facility, which is located in a separate building in the hospital's parking lot.
Two other large HHC facilities that were damaged by Sandy have also been making repairs and plans for the future. At Metropolitan Hospital in Manhattan, water that flooded the basement was pumped out and a massive cleanup undertaken. Metropolitan is currently considering ways to elevate electrical equipment and Con Ed feeders in its basement. At the Coler Specialty Hospital and Nursing Facility at the north end of Roosevelt Island, flooded areas have been cleaned, electrical gear has been raised, fire alarm systems have been repaired and emergency generators are positioned on-site.
Learn more about some of the outcomes of HHC's cleanup and rebuilding work.
---
Contact: Ian Michaels (HHC) (212) 788-3339
About Bellevue Hospital Center
Bellevue is a member of the New York City Health and Hospitals Corporation (HHC) and is America's oldest hospital, established in 1736. Affiliated with the NYU School of Medicine, Bellevue is a major referral center for highly complex cases. The 828-bed hospital has more than 4,000 employees and runs an extensive ambulatory care program that provides more than 500,000 outpatient primary care and specialty care visits annually. Its emergency room sees more than 125,000 visits every year. Clinical centers of excellence include: Emergency Medicine and Trauma Care; Cardiovascular Services; Designated Regional Perinatal Center and Neonatal Intensive Care Unit (ICU); Comprehensive Children's Psychiatric Emergency Program; and Cancer Services.
About HHC
The New York City Health and Hospitals Corporation (HHC) is a $6.7 billion integrated healthcare delivery system with its own 420,000 member health plan, MetroPlusHealth, and is the largest municipal healthcare organization in the country. HHC serves 1.4 million New Yorkers every year and more than 475,000 are uninsured. HHC provides medical, mental health and substance abuse services through its 11 acute care hospitals, four skilled nursing facilities, six large diagnostic and treatment centers and more than 70 community based clinics. HHC Health and Home Care also provides in-home services for New Yorkers. HHC was the 2008 recipient of the National Quality Forum and The Joint Commission's John M. Eisenberg Award for Innovation in Patient Safety and Quality. For more information, visit www.nychhc.org/hhc or find us on facebook.com/NYCHealthSystem or twitter.com/NYCHealthSystem.