Flooding from Hurricane Sandy's record-breaking storm surge damaged several HHC facilities and led to the evacuation of Bellevue and Coney Island hospitals. At Bellevue, over eight million gallons of water entered the basement, primarily through loading docks facing the FDR Drive on the hospital's eastern perimeter. At Coney Island, the basement was inundated and the first floor was also damaged by almost a foot of water that came in at the height of the storm.
Repairs related to Sandy will cost HHC over $200 million, including over $100 million at Bellevue and over $50 million at Coney Island. The work began almost immediately after the storm, and involves not just repairing buildings and replacing equipment, but also relocating as much as possible critical systems out of basements and away from areas that may flood in the future.
Below are some examples of the recovery at Bellevue and Coney Island. For more information about the damage, repairs and plans to protect HHC facilities long-term, see the Sandy anniversarypress release.
Before and After at Bellevue and Coney Island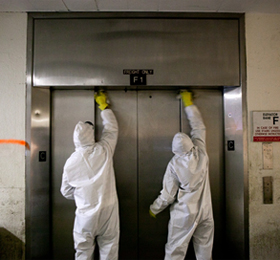 For staff interviews and more on how HHC was affected by Sandy, see HHC's video
"The River in the Basement"
on YouTube.
For media coverage of HHC and the anniversary of Sandy:
Tour of NYC, Bellevue Hospitals 1-year after Sandy, WABC
Sandy One Year Later: Hospitals Addressing Problems From Flooding,
NY1 News [Link no longer available]
NYU Langone and Bellevue still recovering from Superstorm Sandy,
FOX 5 [Link no longer available