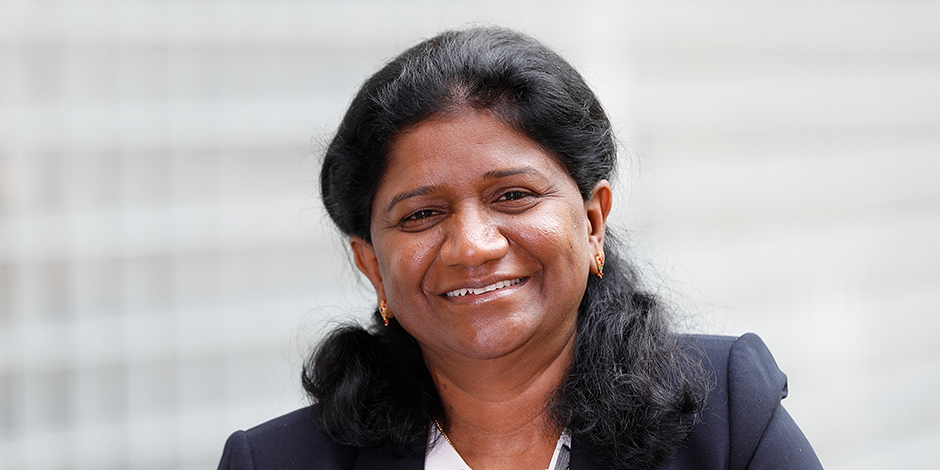 Renuka Ananthamoorthy, MD
Chief of Behavioral Health Sciences
NYC Health + Hospitals/Kings County
Dr. Renuka Ananthamoorthy has been Chief of Behavioral Health Sciences since 2009 at NYC Health + Hospitals/Kings County. She began her career in our health system at NYC Health + Hospitals/Queens in 1998 as deputy director of Psychiatry.
As Chief of Service at Kings County, Dr. Ananthamoorthy supervises interns, residents and PA students. Her colleagues praise her dedication to patients and staff. She achieved a milestone for Kings County's compliance with Justice Department guidelines — within the last year. Dr. Ananthamoorthy is working with her team to transform all behavioral health outpatient services to integrate mental health, medical health, and substance abuse services, to align with DSRIP and NYS Managed Care changes. Colleagues praise her dedication to quality, safety, and continuous improvement.
Dr. Ananthamoorthy is a graduate of Thanjavur Medical School, Thanjavur, India. She was an intern and resident at Cabrini Medical Center-Mount Sinai, and a Fellow in geriatrics at North Shore/LIJ-Hillside. Her teaching experience includes clinical associate professor, SUNY/Downstate College of Medicine and at St. George University School of Medicine, Grenada. Dr. Ananthamoorthy is a member of the American Psychiatric Association and the Indo American Psychiatric Association.