With Diabetes-Related Deaths on the Rise, HHC Reminds New Yorkers About Affordable Diabetes Care Services Available for Children & Adults
Know the Symptoms for Diabetes; Get Screened for Blood Sugar, Cholesterol and High Blood Pressure; Learn Tips for Healthy Eating; Join a Support Group
Jun 12, 2013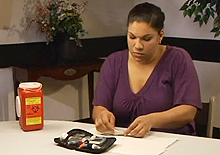 In response to the increasing number of diabetes-related deaths in New York City, the New York City Health and Hospitals Corporation (HHC) reminds New Yorkers about the importance of seeking help to prevent and manage this serious and chronic disease. HHC public hospitals and community health centers in every borough offer a wide array of services to help New Yorkers achieve healthy levels of blood sugar, blood pressure and cholesterol — the three leading indicators for the disease.
"If you are one of nearly 650,000 New Yorkers who have diabetes, you know that staying healthy with this disease can have special challenges. There's a lot to learn and a lot to keep track of, and sometimes it can seem overwhelming," said HHC President Alan D. Aviles. "At HHC, our expert doctors and healthcare teams help individuals learn the skills they need to keep their illness under control, including the importance of testing their blood sugar, and the need for exercise, proper diet and weight control."
HHC cares for more than 58,000 diabetic patients. Of those, 48.1% had their diabetes under control as of 2011 as determined by A1C measurements (A1C is a test that measures blood glucose control). Nationally, only 34.7% of diabetic patients in Medicaid managed care plans had their diabetes under control in 2011.
HHC facilities are battling the disease on many fronts. HHC provides care and support including:
Primary care centers in all five boroughs. Expert teams of medical professionals provide comprehensive care including identifying early symptoms of diabetes; treatment and management; and referrals to eye doctors and podiatrists for related care.
Support groups and diabetes wellness classes. Available in all HHC facilities, these include tips on healthy eating, weight loss, exercise groups, and expertise in teaching our diverse patient population how to prepare healthier meals within the dietary customs of their own communities.
Telemedicine. The House Calls Telehealth Program connects patients who are having trouble managing their diabetes with a cadre of trained nurse professionals through an electronic remote monitoring system installed in the patients' homes. Nurse care managers use remote Telehealth monitoring, access to electronic medical records, electronic communication with providers and direct communication with patients to help them manage their diabetes and improve outcomes.
An online Diabetes Wellness Center. Diabetic patients become more active participants in their healthcare and blood sugar control through this website featuring advice from HHC doctors, nurses and nutritionists, patient success stories, healthy eating and exercise tips, recipes, and access to free blood monitors.
A video library. Provides important information and health tips for people with diabetes, including a video on how to inject insulin properly.
According to the New York City Health Department, diabetes-related deaths are at an all-time high. The disease was the underlying or a contributing cause of 5,695 deaths in 2011, about 160 more such deaths than in 2010 and about 1,260 more than in 1990. The city's diabetes death rate is now 67 fatalities per 100,000 people. Nearly 650,000 adult New Yorkers reported having diabetes in 2011, an increase of 200,000 adults since 2002, and it's believed that many more don't know they have the disease.
For more information go to /diabetes or call 311 to find an HHC public hospital or health center near you.
---
Contact : Ian Michaels (HHC) (212) 788-3339
About HHC
The New York City Health and Hospitals Corporation (HHC) is a $6.7 billion integrated healthcare delivery system with its own 420,000 member health plan, MetroPlusHealth, and is the largest municipal healthcare organization in the country. HHC serves 1.4 million New Yorkers every year and more than 475,000 are uninsured. HHC provides medical, mental health and substance abuse services through its 11 acute care hospitals, four skilled nursing facilities, six large diagnostic and treatment centers and more than 70 community based clinics. HHC Health and Home Care also provides in-home services for New Yorkers. HHC was the 2008 recipient of the National Quality Forum and The Joint Commission's John M. Eisenberg Award for Innovation in Patient Safety and Quality. For more information, visit www.nychhc.org/hhc or find us on facebook.com/NYCHealthSystem or twitter.com/NYCHealthSystem.