"Take Care NY" Health Screening Events Focus on Preventing Obesity
City Public Hospitals Invite New Yorkers to "Commit to Be Fit" by checking BMI, Blood Pressure and Taking a Fit Test

Flu Shots and Other Preventive Health Tests Also Available at 60 Public Health Fairs
Sep 26, 2013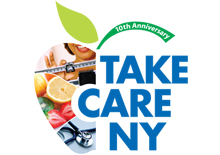 The New York City Health and Hospitals Corporation (HHC) today announced that its 10th annual "Take Care New York" public health campaign will have an anti-obesity focus, urging New Yorkers to "Commit to Be Fit" by eating healthy foods and exercising to fight illness and maintain a healthy weight. Throughout the month of October, HHC hospitals and primary care health centers will host public health fairs and education events where children and adults can learn their body mass index (BMI), measure blood pressure and conduct a three-minute cardiovascular fitness test.
New Yorkers are invited to participate in one of 60 health fairs that will also offer flu shots and a variety of health tests that address prevention and the early detection of illness and chronic disease affecting the public, including obesity, diabetes, high blood pressure, depression, asthma, HIV, cancer and more. HHC's 11 public hospitals and primary care health centers in all five boroughs will also provide nutrition counseling, smoking cessation kits, and other services at little or no cost.
"Adults and children who are overweight are at increased risk for diabetes, heart disease, stroke, high blood pressure, arthritis and cancer," said Dr. David Stevens, Senior Director of HHC's Office of Healthcare Improvement. "HHC hospitals and health centers can help New Yorkers commit to be fit in just a few simple steps. Eating right, exercising and losing weight can improve your health and decrease the risk of chronic disease. A few minutes of preventive care save a life."
In New York City, over 50 percent of adults and 40 percent of children are overweight or obese. The obesity epidemic strikes hardest in communities already suffering from health and economic disparities, particularly black, Latino and low-income communities where the rate of overweight and obesity reaches 70 percent in some neighborhoods.
Children and adults who participate in this year's "Take Care New York" health fairs will be asked to fill out a "Commit to be Fit" post card where they can record some of the new healthy eating and exercise habits they are willing to adopt. The post cards will also allow participants to better understand and record their blood pressure and BMI. For kids, the post card lists the 5-2-1-0 rule to be followed daily: 5 or more fruits and vegetables, 2 hours or less of TV and video games; one hour of physical activity; and 0 sugary drinks, with a recommendation to drink low fat milk or water.
This year HHC will also reach out through social media to engage more people in the campaign against obesity and other preventable health issues. Health fair times and locations will be posted on Facebook and sent out through the HHC Twitter feed. Ten HHC employees will also be tracked as they are screened for various conditions such as high blood sugar and cholesterol, HIV, colon cancer and depression.
HHC is also partnering with "Shape Up NYC!" to provide a series of exercise classes during October to include aerobics, yoga, zumba, Latin cardio, calypso cardio and other exercise routines. Participants are asked to bring their own water bottle and workout mat. No sign up is necessary. For more information click here.
HHC's "Take Care New York" outreach will feature public service announcements in English and Spanish on local radio stations and newspapers. Screenings and other HHC health services are available to all New Yorkers regardless of immigration status or ability to pay. Individuals will learn about healthcare options from a MetroPlusHealth Health Plan representative. Those without health insurance will get help on site to apply for any health insurance plan for which they may qualify or to otherwise access affordable healthcare services at HHC hospitals and clinics. New Yorkers can dial 311 or visit www.nyc.gov for a complete list of convenient locations participating in the "Take Care New York" campaign.
"Take Care New York" screening dates and locations:
Bronx
Jacobi Medical Center
1400 Pelham Parkway South
October 1, 8, 15, 22, 29
12pm – 4pm
Brooklyn
Coney Island Hospital
Main Lobby
2601 Ocean Parkway
October 2, 9, 16, 23, 30
12pm-2pm
Lincoln Medical Center
Main Lobby
234 East 149th Street
October 1, 8, 15, 22, 29
9:30am – 4pm
Cumberland Diagnostic & Treatment Center
100 North Portland Avenue
October 30
1pm-2:30pm
*Fit test not offered at this location
Morrisania Diagnostic &
Treatment Center
Main Lobby
1225 Gerard Avenue
October 2, 9, 16, 23, 30
10am -3pm
Kings County Hospital Center
Ambulatory Care Center, E-Bldg.
Clarkson Avenue at East 39th Street
October 3, 10, 17, 24
10am -2pm
North Central Bronx Hospital
Farmer's Market
Corner of Mosholu Parkway N &
Jerome Ave
October 2, 9, 16, 23, 30
12pm – 4pm
East New York Diagnostic & Treatment
Center
Main Lobby
2094 Pitkin Avenue at Pennsylvania
Avenue
October 8, 10, 22,24
10am-3pm
Segundo Ruiz Belvis Diagnostic &
Treatment Center
Main Lobby
545 East 142 Street
October 3, 10, 17, 24
11am – 3 pm
Woodhull Medical & Mental Health
Center
760 Broadway
0 Block/C Corridor
October 9, 23
1pm-2:30pm
Manhattan
Bellevue Hospital Center
Atrium
462 First Avenue
October 10
10am-3pm
Queens
Elmhurst Hospital Center*
H-Building Lobby
80th Street & 41st Avenue
October 22, 24, 29, 31
1pm-4pm
*Fit test not offered at this location
Gouverneur Health
Smith Family Health Center
60 Madison Street
October 2, 9
12pm-4pm
Queens Hospital Center
82-68 164th Street
October 9
9am-12pm
Gouverneur Health
Roberto Clemente Center
540 East 13th Street
October 1, 3pm-5pm
October 25, 9am-12pm
Staten Island
Mariner's Harbor Family Health Center
2040 Forest Avenue
October 10
9am-3pm
Harlem Hospital Center
Ronald H. Brown Lobby
530 West 137th Street
October 10, 25
10am-2pm
Mobile Medical Office
St. Paul's Episcopal Church
225 St. Paul's Avenue
October 8
9am-3pm
Harlem Hospital Center
MLK 2nd Floor Art Gallery
506 Lenox Avenue
October 17
10am-2pm
Mobile Medical Office
NYCHA Houses West Brighton
230 Broadway
October 3
9am-3pm
Metropolitan Hospital Center
Main Lobby
1901 First Avenue at 97th Street
October 10, 24
10am-2pm
Stapleton Family Health Center
111 Canal Street
October 24
9am-3pm
Renaissance Health Care Network
Sydenham Health Center
264 West 118th Street
October 17
10am-2pm
---
Contact: Ian Michaels (HHC) (212) 788-3339
About HHC
The New York City Health and Hospitals Corporation (HHC) is a $6.7 billion integrated healthcare delivery system with its own 420,000 member health plan, MetroPlusHealth, and is the largest municipal healthcare organization in the country. HHC serves 1.4 million New Yorkers every year and more than 475,000 are uninsured. HHC provides medical, mental health and substance abuse services through its 11 acute care hospitals, four skilled nursing facilities, six large diagnostic and treatment centers and more than 70 community based clinics. HHC Health and Home Care also provides in-home services for New Yorkers. HHC was the 2008 recipient of the National Quality Forum and The Joint Commission's John M. Eisenberg Award for Innovation in Patient Safety and Quality. For more information, visit www.nychhc.org/hhc or find us on facebook.com/NYCHealthSystem or twitter.com/NYCHealthSystem.