NYC Health + Hospitals to Engage 8,000 More Patients with Opioid Use Disorder in Communities Hardest Hit by the Opioid Epidemic
$2.75 Million NIDA Grant to Fund the First Multi-Site Trial of a Hospital Addiction Consult Model
Mar 30, 2018
NYC Health + Hospitals today announced plans to launch this fall a new program to help patients with substance use disorder—the Consult for Addiction Treatment and Care in Hospitals (or CATCH) program. Funded in part by more than $7.5 million from Mayor de Blasio's Healing NYC initiative, the CATCH program will be launched initially at four public hospitals—followed by two others in 2019—with staff specially recruited to engage patients with substance use disorders who are in the hospital for any condition.
The program will focus initially on inpatients, admitted to hospital medical and surgical floors, with plans to expand over time to the emergency department and outpatient clinics. While the program will address the full range of misused substances, it will place special focus on opioids. The program's target is to reach and deliver treatment to more than 8,000 patients with opioid use disorder per year across the six hospitals.
Through the clinical program, CATCH teams at each hospital will engage inpatients who have substance use disorders and initiate medication for addiction treatment with those who are interested. Those patients will also be connected to ongoing care to ensure the continuation of treatment after discharge.
The effectiveness of the CATCH program will be studied. NYC Health + Hospitals and NYU School of Medicine are partnering on the study, supported by a four-year, $2.75 million grant just received from the NIH's National Institute on Drug Abuse (NIDA). The grant will fund an evaluation of the program's effectiveness as a strategy for engaging patients with opioid use disorder in medication for addiction treatment. The study will provide the first rigorous multi-site evaluation of an addiction consult model in a large trial.
"This is an important shift for our public health system, which historically hasn't had a mechanism through which to engage patients with substance use disorders unless they are seeking care specifically for that issue," said Luke Bergmann, PhD, Assistant Vice President, Office of Behavioral Health, NYC Health + Hospitals. "Reaching out to patients and engaging them when they are already here for our care creates a real opportunity for patients to say, 'I'm ready for help.'"
"This horrific epidemic has reached every corner of our City, which underscores just how critical it is that treatment and services be available where and when people need them most," said First Lady Chirlane McCray, who leads the City's mental health and substance misuse efforts. "This new program will help get thousands more New Yorkers on the road to recovery, and free of judgment or punishment."
"Our investment in CATCH is just one of the ways that we are positioning NYC Health + Hospitals as a system of excellence to treat more New Yorkers in need," said Deputy Mayor for Health and Human Services Dr. Herminia Palacio. "As part of HealingNYC, these interdisciplinary teams will be placed in six hospitals that serve neighborhoods most impacted by the opioid epidemic, in order to ensure that inpatients can get access to needed substance use treatment and services."
"I am thrilled that the CATCH program will soon be implemented in NYC Health + Hospitals/Coney Island," said Senator Diane J. Savino. "Throughout the City and State, we see individuals suffering from the opioid epidemic stemming from many root causes. Not only will this program help with vital research in regards to patient long-term care, but it will most importantly deliver treatment to countless lives who are suffering."
"At a critical moment in our city's opioid epidemic, it's encouraging to see NYC Health + Hospitals launch its new CATCH program to specifically connect hospital patients battling substance abuse to life-saving, long-term care," said New York City Council Member Carlina Rivera, who chairs the Council's Committee on Hospitals. "I look forward to this innovative program being successful and expanding to hospitals throughout our public network. We can combat this epidemic at the facilities best suited to handle acute and long-term care."
"As an elected representative of Central Brooklyn, I am aware of the public policy importance of finding creative ways to address the opioid abuse epidemic facing our communities," said Council Member Robert E. Cornegy. "As a Credentialed Alcoholism and Substance Abuse Counselor (CASAC), I understand how critical proactively offering help to those struggling with addiction is. The impactful approach to addressing opioid abuse through proactive intervention offered through Healing NYC is one I am glad is being introduced this year at NYC Health + Hospitals/Woodhull. I look forward to seeing the positive impact it has in empowering more Brooklynites suffering from addiction to receive the treatment they need."
"Make no mistake about it, this program will save lives," said Council Member Stephen Levin. "I applaud NYC Health + Hospitals on their plan to launch a Consult for Addiction Treatment and Care in Hospitals (CATCH) program. This a huge step forward in combating the opioid epidemic in New York City. Not only is the CATCH program critical in engaging patients who may be at risk for opioid addiction, it's also critical in maintaining a relationship with the patient once they are discharged from the hospital and helps connect them to the resources they need to get treatment for addiction."
"The NYC Health and Hospital's CATCH program is an important step forward in addressing the substance abuse crisis in the City of New York, particularly as it relates to opioids," said Council Member Antonio Reynoso. "This program acknowledges that substance abuse is a public health concern that necessitates a comprehensive approach to combat it. I am also encouraged that this program will receive intensive study, ensuring that we are learning and constantly improving our approach to treating substance abuse in NYC."
"The introduction of the CATCH program at NYC Health + Hospitals/Lincoln will be instrumental for my community," said Council Member Rafael Salamanca, Jr. "The opioid epidemic has hit the South Bronx hard, and offering more programs to help not only with substance abuse but also with long-term care will save lives."
About CATCH
Staff are currently being recruited to work in CATCH teams. Each team will include three members. A doctor or nurse practitioner will diagnose the substance use disorder and prescribe medication for addiction treatment as needed. An addiction counselor or social worker will help determine the appropriate setting for treatment and work with the patient on addiction-related issues. A peer advocate will connect with patients on a "lived experience" level and help them navigate their ongoing care.
An important innovation of CATCH is that the team's work will continue post-discharge, to tightly link patients who are ready for treatment to a long-term provider. For some patients, ongoing care will be provided at NYC Health + Hospitals, while others will receive care provided by partnering clinics and community-based organizations.
In New York City, more than half of all emergency department visits of patients with substance use disorders take place in the city's public hospitals, positioning NYC Health + Hospitals uniquely to play a key role in tackling the opioid epidemic. The four participating hospitals to launch in 2018 are NYC Health + Hospitals/Bellevue and NYC Health + Hospitals/Metropolitan, in Manhattan, NYC Health + Hospitals/Lincoln, in the Bronx, and NYC Health + Hospitals/Coney Island, in Brooklyn. The two added with new Healing NYC funding announced by Mayor Bill de Blasio last week are NYC Health + Hospitals/Elmhurst, in Queens, and NYC Health + Hospitals/Woodhull, in Brooklyn.
"The East Harlem community that we serve has been at the center of the opioid and substance use crisis in New York City," said Alina Moran, Chief Executive Officer at NYC Health + Hospitals/Metropolitan, one of the participating hospitals. "Our neighborhood has the highest rate of overdose death in all of Manhattan. By engaging specially trained staff—and especially peers—to identify substance use disorder in a variety of clinical settings, we can expand our work with patients to build the relationships and skills to get them the care and support that they need."
While Healing NYC funding for the CATCH program will be revised upward to reflect the City's commitment to the two new hospitals, the funding commitment for the first four hospitals is $7.5 million over three years.
Since HealingNYC was launched in March 2017, the City has distributed nearly 100,000 naloxone kits to opioid overdose prevention programs; expanded access to medications for addiction treatment; launched Relay, a new peer-based program in hospital emergency departments for people who experienced an overdose; trained more than 700 clinicians to prescribe buprenorphine; offered 1:1 education on judicious opioid prescribing to 1,000 doctors; and significantly increased community outreach and public education efforts.
Studying CATCH
The study of the clinical program will measure initiation, engagement, and retention of patients in medication for addiction treatment, including following patients post-discharge. It will determine the impact of CATCH on opioid treatment outcomes in comparison to usual care and evaluate the success of implementation, at each site. Among the outcomes measured will be the frequency of acute care utilization and overdose deaths among eligible patients hospitalized during the study period versus usual care.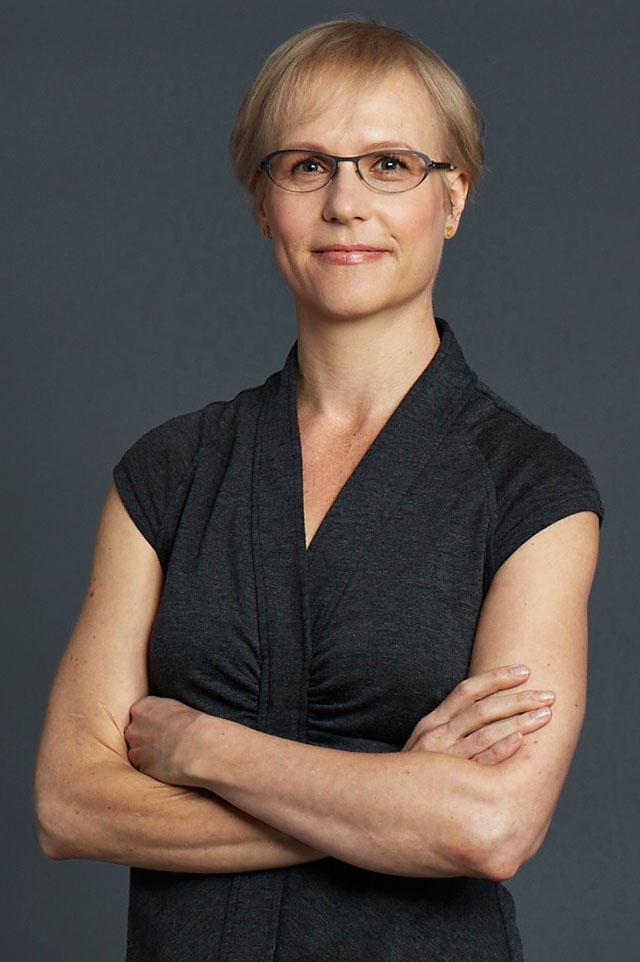 Jennifer McNeely, MD, MS
"Addiction consult programs like CATCH have tremendous potential to reduce the negative consequences of untreated substance use disorder, but to date there has been very little research on how best to implement them and maximize their effectiveness," said Jennifer McNeely, MD, MS, Principal Investigator of the study and Associate Professor in the Departments of Population Health and Medicine at NYU School of Medicine. "NYC Health + Hospital's CATCH program is the largest of its kind, and our NIH/NIDA-funded study is a unique opportunity to study its impact in real-world settings, at scale, in a multi-site trial. What we learn from this study has the potential to transform practice, and to support the broad dissemination and sustainability of these services."
The study is expected to fill an evidence gap that has challenged public health authorities and health systems nationally. Little is known about programs that initiate medication for addiction treatment for inpatients hospitalized for reasons other than substance use disorder, as well as what happens for these patients post-discharge. In addition, little is known, other than anecdotally, about the value of adding peer counselors to an addiction consult team.
"While our study will examine 8,000 lives touched each year, we hope its impact will result in improved care and better engagement for countless other patients nationally," said Dr. Bergmann.
---