NYC Health + Hospitals/Bellevue Unveils Renovated Kitchen for Occupational and Physical Rehabilitation Patients
Patients Practice Skills They Need for Independent Living at Home and Work
Feb 20, 2018
NYC Health + Hospitals/Bellevue and the Auxiliary to Bellevue Hospital today unveiled a newly renovated Rehabilitation Medicine kitchen, designed to help persons who have suffered an injury or illness restore lost skills and regain maximum self-sufficiency.
"In our newly renovated kitchen, we are able to do our job with our patients more effectively to enable them to look after themselves and go back to the community," said Ai-Lian Lim, DPS, OTR/L, Director of Occupational Therapy.
The $43,500 renovation "will allow more comprehensive treatment of our physical rehabilitation patients in order to teach effective body mechanics to those with cumulative and complex trauma, improve meal preparation and safe cooking over a hot stove, assess patient safety in a kitchen, and guide patients toward safe discharge," Ms. Lim said. "Some of our patients are wheelchair users, so a key objective is to provide training to maneuver and reach from a low height."
The kitchen is part of a rehabilitation suite designed to replicate a New York City apartment. The suite also includes a bedroom, bathroom, and dressing area, where patients assisted by occupational therapists are able to practice tasks that will enable them to be self-sufficient at home and work.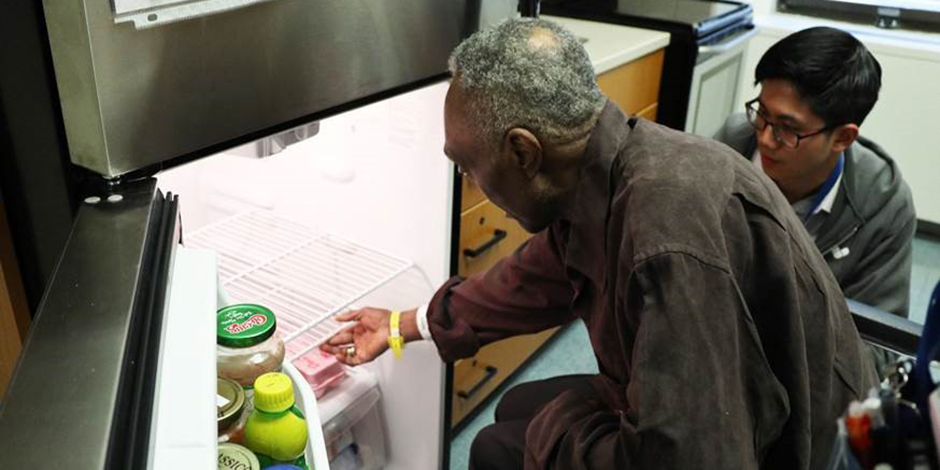 Mark Swann, a patient whose left leg was amputated below the knee due to complications from diabetes in 2011, said that his rehabilitation at NYC Health + Hospitals/Bellevue included practicing tasks in the kitchen, such as preparing lunch for himself.
"It teaches you how to maneuver, stand, balance, and all the things you take for granted," said Mr. Swann, who uses a prosthesis. "I cannot tell you how invaluable that rehab team is. It's an amazing group of people. They get you on track to feeling positive about yourself."
Lorinda Klein, President of the Auxiliary to Bellevue Hospital, said board members Lillian Calvanico and Will Weder brought the project to the auxiliary after touring the kitchen and learning it had not had an upgrade in 20 years.
"We decided this is a worthwhile project that fits our mission to enhance the well-being, care, and convalescence of patients and deserves our support," Ms. Klein said.
"NYC Health + Hospitals/Bellevue has a distinguished history in the field of rehabilitation medicine," said William Hicks, Chief Executive Officer of NYC Health + Hospitals/Bellevue. "We appreciate this support from the auxiliary and their enthusiasm in working with us to support our patients' recovery and enrich their lives."
In 1947, Dr. Howard Rusk, known as the "father of rehabilitation medicine," and Dr. Howard Deaver, a leading expert in physical therapy, established the first non-military rehabilitation service in a general hospital at NYC Health + Hospitals/Bellevue. The hospital provides inpatient and outpatient rehabilitation services and is a Center of Excellence for traumatic brain injury rehabilitation. The Department of Rehabilitation Medicine also hosts monthly support groups for amputees and for traumatic brain injury patients that are open to the public. For information, call 212-562-2130.
"The Auxiliary had a long and productive relationship with Dr. Howard Rusk," Ms. Klein said.  "Long before he built the Rusk Institute of Rehabilitation Medicine, he piloted his program and techniques at NYC Health + Hospitals/Bellevue. The Auxiliary tries to maintain that connection to our Department of Rehabilitation Medicine."
The renovation includes all new plumbing and wiring, cabinets, counters, backsplashes, sink, and floors. New appliances include a stove, refrigerator, and microwave oven. The redesigned space includes wheelchair accessible pantry and storage areas, and it has been supplied with new pots, pans, serving plates, and utensils.
The Rehabilitation Service at NYC Health + Hospitals/Bellevue recorded 435 admissions in 2017, approximately 12,000 outpatient visits, and approximately 17,400 medical-surgical visits.
---