NYC Health + Hospitals/Metropolitan Is Accredited as Diabetes Center of Excellence
The Diabetes Self-Management Program at Metropolitan Teaches Patients to Be Knowledgeable Advocates for Their Own Health Care
Sep 27, 2017
NYC Health + Hospitals/Metropolitan has received accreditation as a Diabetes Center of Excellence for providing high-quality, evidence-based education to patients with diabetes. The prestigious four-year accreditation from the American Association of Diabetes Educators verifies that the hospital's program meets national standards for diabetes self-management education, which have been shown to be cost-effective and improve clinical outcomes and patients' quality of life. The standards highlight the significance of ongoing support for people with diabetes, particularly to encourage behavior change and to address psychosocial concerns.
"In 2016, diabetes was identified as the number one health issue in the health needs survey of our neighboring community," said Alina Moran, chief executive officer at NYC Health + Hospitals/Metropolitan. "Participants in these programs show better control of their blood glucose level and adopt healthier lifestyle habits."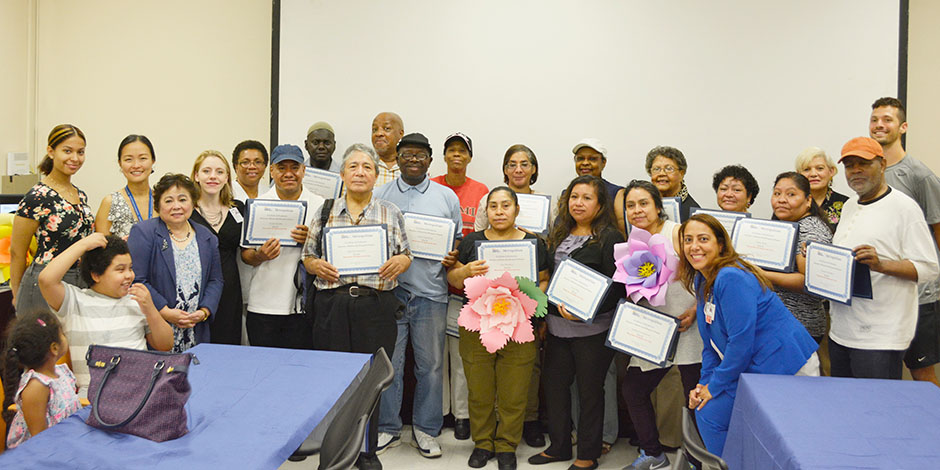 NYC Health + Hospitals CEO Alina Moran (on right in blue jacket) with some recent graduates of Metropolitan's Diabetes Education Program.
NYC Health + Hospitals/Metropolitan currently serves more than 3,800 patients with diabetes. The hospital offers an interdisciplinary diabetes program facilitated by nurses, pharmacists, and nutritionists, with patient education classes offered in both English and Spanish.
"The mission of our Diabetes Self-Management Program is to empower our patients to self-manage their diabetes by providing evidenced-based education in an interactive and supportive learning environment," said Anita Wong, RD, CDE, who oversees the program at NYC Health + Hospitals/Metropolitan. "Thirty patients have already completed our four-week diabetes-education classes, which are designed to teach patients to manage their disease. After a comprehensive initial assessment, each participant developed individual behavioral goals for tracking, and a continuing support plan to track achievements."
The program has four main goals: to enable patients to take a leading role in their health and health care, to provide patients a foundational knowledge of diabetes and its disease process, to assist patients in preventing/managing long- and short-term complications associated with diabetes, and to build a community of support for patients with diabetes.
---