NYC Health + Hospitals/Coney Island Experts Educate Students about the Opioid Epidemic
Jan 17, 2018
Twenty-five students, counselors, and teachers from five high schools and a junior high school attended an educational forum at NYC Health + Hospitals/Coney Island on the risks and repercussions of drug use, with special focus on opioid use. The December 21 panel of chemical dependency experts, complemented by a woman in recovery from addiction, taught the attendees about the dangers of opioids, how to say no, and how to help others seek rehabilitative care.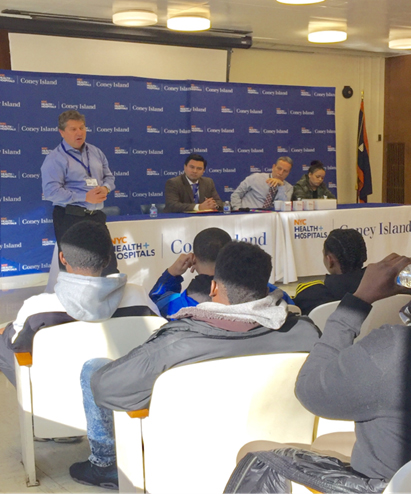 "Every seven seconds someone overdoses, and every seven minutes someone dies of an overdose in the United States," Dr. Mark Kindschuh, Chief of Emergency Medicine, told the students from William Grady, Midwood, Leon Goldstein, Edward R. Murrow, and Abraham Lincoln High Schools and Montauk Junior High School.
Jonathan Nover, MBA, RN, Associate Executive Director, noted that motor vehicle accidents, which have long been the number one cause of deaths among people aged 18 to 26, have now been dropped to number two. Opioid overdose is the new number one cause of death in this age group.
Tatyana's Story
The students were especially interested to hear the story of Tatyana, a 26-year-old woman in recovery. She traced her addiction back to trying just one opioid pill, given to her by a friend. She found herself seeking another pill the very next day. She began using daily, and graduated from swallowing pills to sniffing up to 15 pills a day. Her physical and emotional health both deteriorated. Moreover, her struggle to survive also hurt her mother and siblings. Seeing her struggle just to get out of bed to take another pill and worrying about what would become of her were very hard on them.
After using for over a year, Tatyana realized that she was destroying herself and her family, and she decided to get help. She spent two weeks as an inpatient at NYC Health + Hospitals/Coney Island, followed by ongoing outpatient services through the Drug Addiction Program of the NYC Health + Hospitals/Gotham Health center located on West 19th Street in Coney Island. She described the clinical care she received as "lifesaving," and her family also provides support to help her stay clean. She now wants to help address the problem by telling her story to students, as well as to others who are struggling with addiction.
The students also learned how people of all ages and all economic and social backgrounds have become addicted to opioids. Among the questions posed to the panel, one student asked whether marijuana can be laced with an opioid and then cause addiction. Sal Florio, Associate Director of the Chemical Dependency Program, surprised some of the attendees by confirming that lacing marijuana with opioids is very possible, and it happens. He noted that the best way students can protect themselves is by saying no.
Students left the forum with information about the different treatment options that NYC Health + Hospitals offers patients and their families.
The forum was so well received that other schools have heard about it and reached out to ask if a similar forum could be held for their students. Mei Kong, COO/CNO, confirms that plans are underway to accommodate as many requests as possible.
---