NYC Health + Hospitals' Hypertension Emphasis Results in 2,200 More Patients with Controlled Blood Pressure in 2016
Concerted Effort Moves the Needle on a Leading Cause of Death in New York City
Mar 16, 2017
NYC Health + Hospitals announced today that, over the course of 2016, the largest public health system in the country increased the number of patients with high blood pressure under control by more than 2,200. More than 72,000 patients receiving care for high blood pressure within NYC Health + Hospitals now have their blood pressure under control. Improving blood pressure control means reducing risk for stroke, heart attack, kidney damage, vision loss, erectile dysfunction, and memory loss.
From January 2016 through January 2017, the percentage of NYC Health + Hospitals' patients (ages 18 to 75) being treated for hypertension who got their blood pressure under control (i.e., 140/90 or lower) improved from 62.5 percent to 65.8 percent. Nationally, 54 percent of people with high blood pressure have their condition under control, according to the Centers for Disease Control and Prevention.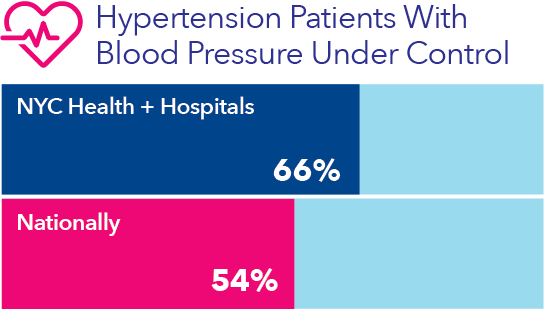 The data from NYC Health + Hospitals are just the latest showing continued incremental improvement. A greater focus on care management is one of the strategies laid out in "One New York," the report issued in April 2016 outlining New York City's plan to transform NYC Health + Hospitals.
"You can't talk about population health without a significant focus on improving blood pressure control," said Stanley Brezenoff, interim president and chief executive officer of NYC Health + Hospitals. "Hypertension is challenging because people can have high blood pressure and be totally unaware of it. And even when they know about it, they don't feel it, which makes it harder for people to be motivated to change their nutrition and exercise behavior."
"Over one in four adult New Yorkers has been told they have high blood pressure, a leading cause of heart disease and stroke," said Health Commissioner Dr. Mary T. Bassett. "Even more New Yorkers have high blood pressure, but don't know it. The good news is high blood pressure is preventable and treatable. I congratulate Health + Hospitals on their success in getting more patients' blood pressure under control."
"Blood pressure is one of the most fundamental indicators of health that we have, so these numbers have outstanding implications for thousands of New Yorkers," said Council Member Corey Johnson, Chair of the Committee on Health. "This is truly lifesaving work, and I thank NYC Health + Hospitals for serving our City with outstanding health care every day."
"Our numbers have improved because our health system has made a concerted effort to work closely with both our patients and our providers," said Dave Chokshi, MD, chief population health officer at OneCity Health, a subsidiary of NYC Health + Hospitals focused on population health, care management, and implementation of the State's Delivery System Reform Incentive Payment program. "Results from our multi-pronged approach are encouraging, and we aim to see continued improvement over time."
Through NYC Health + Hospitals' "Treat-to-Target" program, nurses work closely and consistently with patients. For hypertensive patients with elevated blood pressure, nurses follow up with patients every two to four weeks, in the clinic or by phone, until the blood pressure is controlled. Nurses assess whether the problem is due to challenges with medication adherence, a need for a change in the medication regimen (e.g., increased dose), or some other factor. The nurses then work with patient and provider as needed to adjust the care plan and assist the patient in controlling blood pressure.
NYC Health + Hospitals also sends monthly performance data to each facility, broken down by provider and by clinic. Data are used to plan and monitor performance improvement. The regular feedback leads to greater uniformity of care and optimal practice throughout the system.
"Empowering nurses and bringing data to the point of care are the keys to improving blood pressure control," said Katie Bornschlegel, director of Clinical Quality Improvement Initiatives in the Office of Population Health.
Facilities within the system that recorded the most improvement in 2016 identified a number of factors behind their recent successes. Among them, they noted an increased number of nurses participating in "Treat-to-Target," as well as the addition of more evening and Saturday appointment slots for patients; better referral patterns to the program from providers, including "warm handoffs" to program nurses; and spreading best practices from adult medicine clinics to other specialized primary care clinics (e.g., those focused on geriatrics or HIV).
Plans to strengthen the program in 2017 include improving processes for patient self-monitoring of blood pressure at home and partnering with community-based organizations and the New York City Department of Health and Mental Hygiene (through the Citywide Hypertension Initiative) to find more effective ways to connect with hard-to-reach patients.
---