NYC Health + Hospitals/Bellevue Nurses Recognized for Providing Extraordinary Care in Recent Major Emergencies
Feb 15, 2018
NYC Health + Hospitals/Bellevue has presented the Daisy Award for Extraordinary Nurses to 182 nurses in its Emergency Department, Surgical Intensive Care Unit, and Perioperative Services for the outstanding care they provided patients in recent terrorism attacks and mass casualty events in New York City.
NYC Health + Hospitals/Bellevue medical teams mobilized to care for patients in three recent mass casualty incidents, which are events that cause or have the potential to cause severe injury to a high number of people.
"The Daisy Award is usually given to one RN; however, we felt that due to all the mass casualty incidents that occurred in a short period of time, it was appropriate to honor the three units that cared for the victims and families," said Maria Scaramuzzino, RN, Senior Director of Nursing – Operations. "It was the collaboration of these three units that produced the most favorable outcome for these patients and families."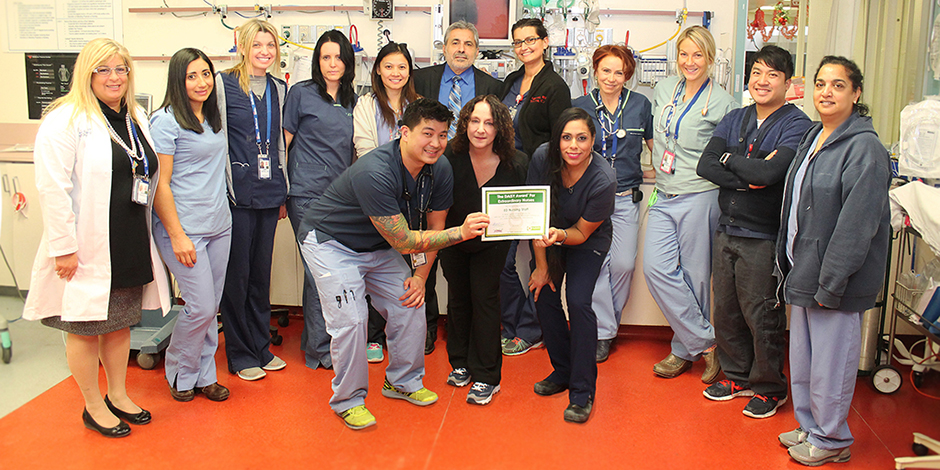 Nurses in the Emergency Department celebrate their Daisy Award recognition.
Honored were 82 nurses from the Emergency Department, 33 nurses from the Surgical Intensive Care Unit, and 67 nurses from Perioperative Services. The nurses were given certificates from the Daisy Foundation for their work.
"The nurses went above and beyond the call of duty to care for the patients from three mass casualty incidents that took place in New York City," said Omar Abedalrhman, MPA, RN, Chief Nursing Officer. "It is not just their nursing expertise that stood out, but their compassion and caring for the individual patients and their extended families. We are grateful and honored to have these valuable nurses as part of our staff at NYC Health + Hospitals/Bellevue."
On May 18, 2017, NYC Health + Hospitals/Bellevue staff cared for 13 patients injured in a Times Square incident, in which police reported that a man drove a vehicle into a crowd of pedestrians. On October 31, 2017, the hospital treated five patients from a Lower Manhattan incident, in which a man drove a vehicle onto a bike path on the West Side; and on December 11, 2017, the hospital received a patient from an event at the Port Authority Terminal, in which police said a man detonated a bomb in a pedestrian tunnel. Law enforcement officials have determined that the October 31 and December 11 events were terrorist attacks.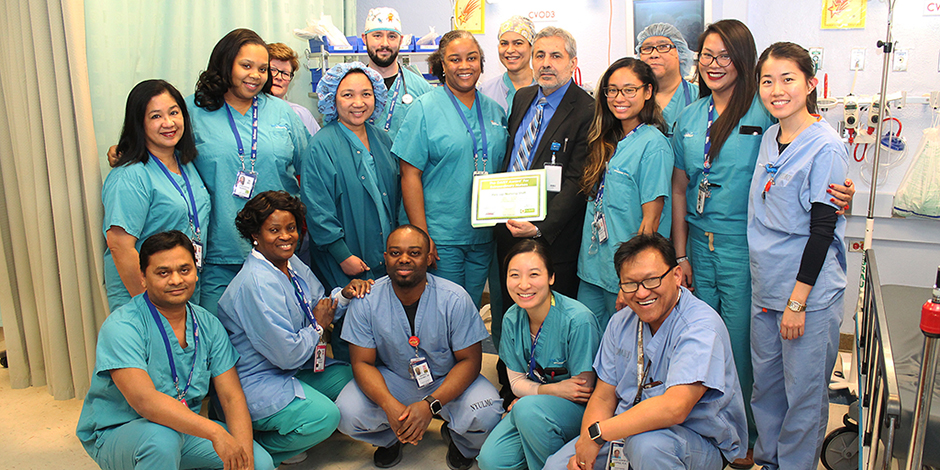 Also playing a vital role in emergencies, the nurses in Perioperative Services were pleased to be recognized with the Daisy Award.
NYC Health + Hospitals/Bellevue is a Level One Trauma Center that provides high-quality, comprehensive care for patients suffering from major injuries. Its emergency room records more than 110,000 visits per year. All the patients from the mass casualty events were brought to the emergency room to be treated and stabilized before being moved to the operating room, an inpatient unit, or an intensive care unit, or being discharged.
"At a moment's notice, the surgical teams at NYC Health + Hospitals/Bellevue have to be ready for emergent operating room cases, and the nursing staff assists patients through the pre-op, peri-op, and post-op course," said Ms. Scaramuzzino. "In all three incidents, the teams dealt with families who were under increased emotional stress due to the criticality of the injuries, the unexpected surgery, and hospitalization." The nurses also arranged for interpreters in the case of patients who were tourists from other countries and worked with social workers and patient advocates to provide other services.
"Our hospital is always prepared and ready to serve" said Spiros Frangos, MD, Chief of Trauma. "If you are injured in New York City, you want to be brought here because we have the knowledge, expertise, and experience to treat patients hurt in these unfortunate circumstances."
The Daisy Foundation was established in 1999 by members of the family of Patrick Barnes, a 33-year-old man who died from complications of the auto-immune disease ITP. The Barnes family wanted to do something in honor of Patrick's memory and thank the nurses that cared for Patrick and for the extraordinary care they provide patients and families every day. Patrick's family created the Daisy Award for Extraordinary Nurses, and NYC Health + Hospitals/Bellevue is proud to partner with the Daisy Foundation.
---