Manhattan Hospital Celebrates Baby-Friendly Designation
Mar 06, 2018
NYC Health + Hospitals/Metropolitan hosted a special luncheon for mothers, babies, and their families today to celebrate the hospital's "Baby-Friendly" designation. Awarded by Baby-Friendly USA, an initiative of the World Health Organization and the United Nations Children's Fund (UNICEF), the designation recognizes hospitals that encourage and promote breastfeeding and mother-baby bonding.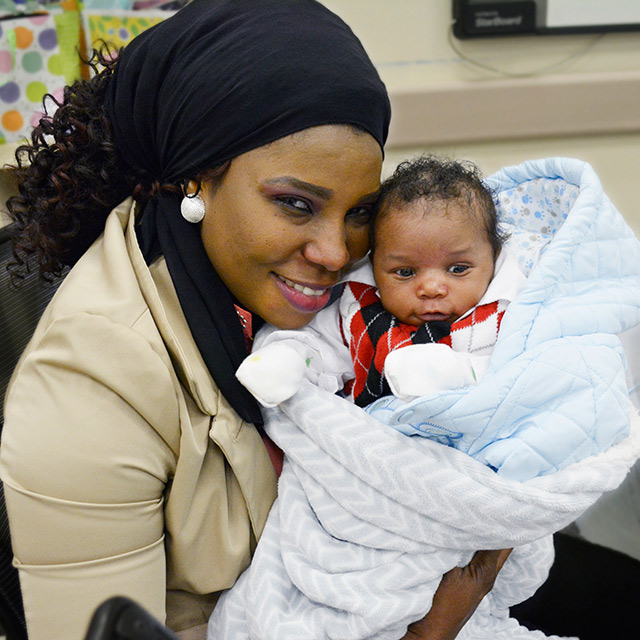 "The coveted Baby-Friendly designation is a reflection of our commitment to mothers and babies," said Alina Moran, chief executive officer at NYC Health +Hospitals/Metropolitan. "This important recognition acknowledges the hard work and caring of our obstetricians, midwives, pediatricians, nurses, and other staff, who are all dedicated to making the birthing experience here exceptional. We work diligently every day to provide top-quality services to all of our newest patients and their mothers."
To receive the designation, hospitals are required to meet or exceed patient care standards in a rigorous on-site evaluation by the Baby-Friendly Hospital Initiative, including:
A comprehensive education program that offers mothers the information, confidence, and skills needed to successfully initiate and continue breastfeeding their babies;
Immediate skin-to-skin contact for mother and baby after birth;
Intensive education of both patients and hospital staff about the important benefits and management of breastfeeding;
Allowing newborns to stay with their mother's 24 hours a day during postpartum care; and
Providing connections for breastfeeding support groups in the area.
Of the 947 babies born at NYC Health + Hospitals/Metropolitan in 2017, 97 percent initiated breastfeeding immediately following delivery.
The hospital's Women's Health Center has spacious private suites for labor, delivery and recovery with 24-hour visitation. Patients have access to a 24-hour midwifery service. The hospital offers wireless fetal monitoring, so that mothers can walk and exercise while in labor, and evidence-based pain management, including patient-controlled nitrous oxide. Families are invited to attend a range of pre- and postnatal classes on topics such as childbirth preparation and breastfeeding to help them welcome their baby into the world.
For more information about the Women's Health Center at NYC Health + Hospitals/Metropolitan, visit nychealthandhospitals.org/metropolitan or call 212-423-7769.
---