Kevin Lynch Is Named Chief Information Officer and Senior Vice President for NYC Health + Hospitals
Focus will be on integration and standardization of information technology systems
Dec 01, 2017
At the request of Dr. Mitchell Katz, who is scheduled to take over as President and CEO of NYC Health + Hospitals in January, the health system Board of Directors yesterday approved the appointment of Kevin Lynch as the new Chief Information Officer and Senior Vice President for NYC Health + Hospitals. Mr. Lynch will assume his new responsibilities in January.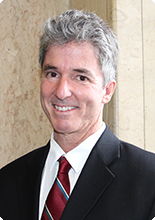 Mr. Lynch comes to NYC Health + Hospitals from Los Angeles County—the nation's second largest public health system, trailing only NYC Health + Hospitals—where he has served as the Chief Information Officer for the Department of Health Services since 2010, with expanded responsibilities for the county's Department of Mental Health, Department of Public Health, and Integrated Correctional Health Services starting in July 2016.
His 25 years in health care information technology leadership also includes his experience as corporate director at Jackson Health System, in Miami Dade County, often ranked the third largest public health system in the country.
In both of his most recent positions, he oversaw the successful transformation from a fragmented clinical IT system to a system rooted in enterprise-wide electronic health records.
Earlier, he held information technology leadership positions within the Tenet Health System, also in South Florida, where he served three of its facilities in overarching roles.
"Kevin Lynch will bring a wealth of experience and compassion focused on recognizing our mission in delivering exceptional patient care," said Gordon Campbell, Acting Chair of the Board of Directors.
"Innovations in technology are foundational to the transformation of NYC Health + Hospitals," said Stanley Brezenoff, Interim President and CEO of NYC Health + Hospitals. "I have worked closely with Dr. Katz over the last few weeks in support of this leadership appointment. Dr. Katz has firsthand knowledge of Kevin Lynch's work, and we are both confident that he's the most qualified candidate to lead our IT path for the future. We're very lucky to have him."
"I know Kevin's work well, and I am especially excited that he will bring with him the knowledge and experience from having developed enterprise-wide IT systems," said Dr. Katz. "He understands not just the technical IT details, but also the nuances related to integrating and standardizing complex systems for a large public health system."
"This is obviously an exciting opportunity for me to advance transformation in the largest public health system in the country," said Mr. Lynch. "I have a good sense of the challenges ahead, and I can't wait to tackle them."
---