Jacobi Gets Third-Straight Leapfrog Award
Continues Reputation as a Leader in Patient Safety
Nov 18, 2013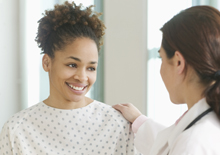 The Northeast Business Group on Health (NEBGH) yesterday honored Jacobi Medical Center (Jacobi), a member of the New York City Health and Hospitals Corporation (HHC), as one of only three medical institutions in the New York City area for its commitment to patient safety, transparency and accountability, marking the third straight year Jacobi has been recognized by NEBGH for its commitment to the highest standards of patient care.
Jacobi Medical Center was honored with an award for Outstanding Performance in Patient Safety and Quality, presented today at the NEBGH's annual meeting in New York City. The awards were based on a rigorous review of participating area hospitals conducted by The Leapfrog Group, a coalition of public and private purchasers of employee health coverage dedicated to improving healthcare safety, quality and affordability. Leapfrog benchmarks hospitals against practices that reduce the risk of medical errors and hospital-acquired infections, and improve patient outcomes.
The same group in spring 2013 issued Jacobi an "A' rating for consistent efforts to improve patient safety.
Jacobi's Executive Director William P. Walsh said, "Patient safety is not an abject concept; it is something we measure every single day with standard benchmarks. By taking a dedicated and labor-intensive approach, we can look our patients in the eye and say, without question, we are providing the safest care possible."
"We are very pleased to honor these three outstanding hospitals for their dedication to patient safety and high quality health care," said Laurel Pickering, President and CEO of NEBGH. "These hospitals and their executives should be proud of their ongoing commitment and the many contributions each has made toward improving the quality and safety of our healthcare system."
Leah Binder, CEO, The Leapfrog Group, said, "[Jacobi's] high levels of performance on Leapfrog's national standards of quality and safety measures indicate that it is among the safest and best hospitals in the metro New York City area. The Leapfrog Group thanks them for their commitment to transparency and health care quality in the communities they serve."
The results of the Leapfrog Group are publicly reported at www.leapfroggroup.org.
---
Contact: Ian Michaels (HHC) (212) 788-3339
Jacobi Public Affairs(718) 918-4055
About Jacobi Medical Center
Jacobi Medical Center is part of HHC's North Bronx Healthcare Network. Jacobi is a 457-bed teaching hospital affiliated with the Albert Einstein College of Medicine. The facility holds numerous center of excellence designations for its renowned trauma center, burn center, regional stroke center, regional perinatal center, breast health center and bariatric surgery service. The facility also has a multi-person hyperbaric unit and a surgical intensive care unit. Jacobi's Ambulatory Care Pavilion is a stunning complement to its recently constructed inpatient facility and allows staff to provide patients with high-quality care in a modern, state-of-the-art environment.
About HHC
The New York City Health and Hospitals Corporation (HHC) is a $6.7 billion integrated healthcare delivery system with its own 420,000 member health plan, MetroPlusHealth, and is the largest municipal healthcare organization in the country. HHC serves 1.4 million New Yorkers every year and more than 475,000 are uninsured. HHC provides medical, mental health and substance abuse services through its 11 acute care hospitals, four skilled nursing facilities, six large diagnostic and treatment centers and more than 70 community based clinics. HHC Health and Home Care also provides in-home services for New Yorkers. HHC was the 2008 recipient of the National Quality Forum and The Joint Commission's John M. Eisenberg Award for Innovation in Patient Safety and Quality. For more information, visit www.nychhc.org/hhc or find us on facebook.com/NYCHealthSystem or twitter.com/NYCHealthSystem.