HHC Farmers Markets Promote Healthy Eating
Jul 10, 2013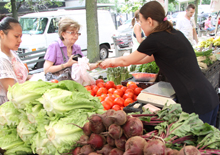 The New York City Health and Hospitals Corporation (HHC) welcomes back farmers markets at several public hospital campuses this summer, making fresh fruits and vegetables available and promoting healthy foods for all New Yorkers.
Farmers markets are open now through November, with one market, at North Central Bronx Hospital, opening today. Another market at Queens Hospital Center is open year-round. A variety of regionally-grown vegetables, fruits, fresh juices and flowers will be offered on a weekly basis in communities where residents don't always have access to fresh fruits and vegetables at reasonable prices.
"At HHC we promote healthy eating, along with regular checkups and exercise, to help people stay physically fit and to control the chronic conditions that affect many of our patients, such as obesity, high blood pressure and diabetes," said HHC President Alan D. Aviles. "These farmers markets support HHC's efforts to keep communities healthy by providing healthy and affordable dietary options for patients, employees and the local community."
HHC has had healthy eating and weight loss programs throughout its facilities for several years to help New Yorkers of all ages boost their health and physical fitness. More than one-third of Americans are obese, according to the Centers for Disease Control, and recently the American Medical Association declared obesity a disease.
Here is a list of farmers markets at HHC hospitals:
Manhattan:
Metropolitan Hospital Center: Market located at 99th street and Third Avenue. Open now to Nov.15. Fridays 8 a.m. – 4 p.m.
Harlem Hospital: Lenox Avenue between 136 and 137 Streets. Open now to Nov. 16. Fridays 8 a.m.-4 p.m.
Bronx:
Jacobi Medical Center: Market located at 1400 Pelham Parkway, on the new Jacobi Pedestrian Mall directly in front of the hospital. Open now to Thanksgiving. Tuesdays 8 a.m. – 4 p.m.
North Central Bronx Hospital: Market located at the corner of Mosholu Parkway North and Jerome Avenue. July 10 to Thanksgiving. Wednesdays 8a.m. – 6 p.m.
Lincoln Medical Center: Market located on 149th Street, adjacent to the hospital, between Morris and Park Avenue. Open now to Nov. 22. Tuesdays and Fridays 8 a.m. – 3 p.m.
Brooklyn:
Coney Island Hospital: Market located at 2100 Ocean Parkway between Ave. Z and Shore Rd. Open now to November. Fridays 8 a.m. – 4 p.m.
Queens:
Queens Hospital Center: Market located at 164th street and 82nd road, sidewalk pavilion under the east bridge. All year round. Thursdays 8 a.m. – 4 p.m.
Elmhurst Hospital Center: Market located at 41st Avenue between 80th and 81st streets. Now to Nov. 26. Tuesdays 8 a.m. – 4 p.m.
The farmers markets are hosted in partnership with Harvest Home and Greenmarket. Shoppers can pay for their fresh fruits and leafy greens using EBT cards (food stamps), Health Bucks, Green Checks, Senior Farmers Market Nutrition Program (FMNP) coupons and Women, Infants and Children (WIC) coupons.
---
Contact: Ian Michaels (HHC) (212) 788-3339
About HHC
The New York City Health and Hospitals Corporation (HHC) is a $6.7 billion integrated healthcare delivery system with its own 420,000 member health plan, MetroPlusHealth, and is the largest municipal healthcare organization in the country. HHC serves 1.4 million New Yorkers every year and more than 475,000 are uninsured. HHC provides medical, mental health and substance abuse services through its 11 acute care hospitals, four skilled nursing facilities, six large diagnostic and treatment centers and more than 70 community based clinics. HHC Health and Home Care also provides in-home services for New Yorkers. HHC was the 2008 recipient of the National Quality Forum and The Joint Commission's John M. Eisenberg Award for Innovation in Patient Safety and Quality. For more information, visit www.nychhc.org/hhc or find us on facebook.com/NYCHealthSystem or twitter.com/NYCHealthSystem.