Henry J. Carter Specialty Hospital and Nursing Facility Receives First Patients As Goldwater Campus on Roosevelt Island Nears Closing
Nov 26, 2013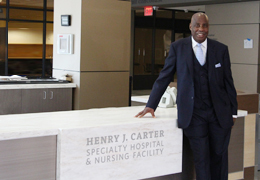 New York City Health and Hospitals Corporation (HHC) President Alan D. Aviles announced today that on November 24 and 25, 228 patients were successfully relocated to the Henry J. Carter Specialty Hospital and Nursing Facility in Harlem from the Goldwater Campus of the Coler-Goldwater Specialty Hospital and Nursing Facility on Roosevelt Island. The last remaining patient left Goldwater, which will soon be decommissioned, on November 25 at approximately 4:00 PM.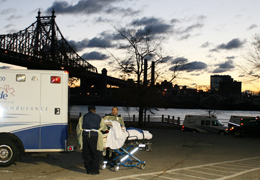 "This week marks the beginning of one era at HHC and the end of another," said Mr. Aviles. "The relocation brings the first patients to the new Carter Hospital while representing the end of patient services at Goldwater, a facility that opened in 1939. It was a monumental effort to move this vulnerable patient population, and I applaud everyone who planned the operation for months and who during the move for the last two days devoted themselves to the safety and comfort of our patients."
On Sunday, November 24, 114 of the most critically ill patients, most of whom rely on ventilators for respiration, were transported to the long-term Acute Care Hospital section of Henry J. Carter. On Monday, November 25, 114 additional Goldwater patients were transported to the Skilled Nursing Facility section of Carter. Both days' moves were scheduled to accommodate patient needs while avoiding traffic delays to the greatest extent possible.
The new $285 million Carter facility will expand access to long-term acute care and skilled nursing services for physically disabled and medically fragile individuals who need specialized therapeutic support or rehabilitative services to improve their quality of life. The modern, 400,000 square foot facility is named after Henry "Hank" J. Carter, founder of Wheelchair Charities, Inc., in recognition of his 40 years of support to New Yorkers with disabilities and more than $25 million in donations to HHC, and marks the first time HHC has named a facility after a living individual.
Extensive planning and a comprehensive analysis of medical and psychological needs of the patients were completed prior to the move to ensure a safe and comfortable transition for each individual. Support plans were developed to account for patients' medical needs during the move and when they arrived at Carter; routes by which patients moved both indoors and outdoors were pre-mapped to minimize patient delays; and an elevator usage plan was developed. Provisions were made to welcome patients and their families to the new Carter facility. Finally, training was conducted over several weeks to familiarize medical and other staff with move protocols and each staff member's individual role and responsibilities within various Patient Move Teams and Patient Receiving Teams.
The operation was coordinated with several agencies, including the New York City Office of Emergency Management, the New York City Police Department, the Fire Department of New York, the New York City Department of Transportation, the New York City Economic Development Corporation, and the New York State Department of Health.
The Henry J. Carter Specialty Hospital and Nursing Facility, built on the grounds of the former North General Hospital, features two separate buildings with a combined 365 beds for long-term acute care and skilled nursing care.
The Goldwater campus on Roosevelt Island is comprised of multiple structures that would have required modernization costing several hundred millions dollars. When the former North General Hospital closed in Harlem, HHC sought the opportunity to develop a modern, resident-centered long-term care facility on the North General grounds at significantly lower cost, thereby also ensuring that the North General site would be reused for healthcare services. In June 2010, HHC announced that it would move out of the Goldwater campus and relocate to a new facility at the North General site.
---
Contact: Ian Michaels (HHC) (212) 788-3339
About HHC
The New York City Health and Hospitals Corporation (HHC) is a $6.7 billion integrated healthcare delivery system with its own 420,000 member health plan, MetroPlusHealth, and is the largest municipal healthcare organization in the country. HHC serves 1.4 million New Yorkers every year and more than 475,000 are uninsured. HHC provides medical, mental health and substance abuse services through its 11 acute care hospitals, four skilled nursing facilities, six large diagnostic and treatment centers and more than 70 community based clinics. HHC Health and Home Care also provides in-home services for New Yorkers. HHC was the 2008 recipient of the National Quality Forum and The Joint Commission's John M. Eisenberg Award for Innovation in Patient Safety and Quality. For more information, visit www.nychhc.org/hhc or find us on facebook.com/NYCHealthSystem or twitter.com/NYCHealthSystem.