Health and Hospitals Corporation President Aviles Opens New Henry J. Carter Specialty Hospital and Nursing Facility in East Harlem
First Major Healthcare Facility to Open in East Harlem to Serve Disabled and Medically Fragile New Yorkers Facility Honors Philanthropist and Wheelchair Charities, Inc. Founder Henry J. Carter for 40 Years of Support and $25 Million in Donations to HHC
Aug 21, 2013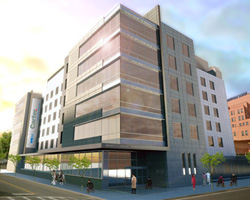 HHC President Alan D. Aviles today marked the opening of the Henry J. Carter Specialty Hospital and Nursing Facility. This new $285 million healthcare facility will expand access to long-term acute care and skilled nursing services for physically disabled and medically fragile individuals who need specialized therapeutic support or rehabilitative services to improve their quality of life. The modern, 400,000 square foot facility is named after Henry "Hank" J. Carter, founder of Wheelchair Charities, Inc., in recognition of his 40 years of support to New Yorkers with disabilities and more than $25 million in donations to HHC and marks the first time HHC has named a facility after a living individual. President Aviles was joined at a ribbon-cutting ceremony by Mr. Carter, his friends and family members, and dozens of dignitaries and community leaders, including Congressman Charles Rangel, Former Governor David Paterson, former Ambassador to the United Nations Andrew Young, CEO of the King Center in Atlanta Bernice A. King, NBA Hall of Famer Bernard King and NYC Economic Development Corporation President Kyle Kimball.
"The care that HHC delivers in our facilities is the barometer of public health in our city, and our responsibilities to New Yorkers span the continuum of care, no matter how routine, complex, or highly specialized the need," said HHC President Alan D. Aviles. "The residents and patients at Carter will receive the most technologically advanced care available provided by staff who respect and foster each individual's ability and independence."
"The Henry J. Carter Specialty Hospital and Nursing Facility will provide leading edge rehabilitation and long-term care services with a constant emphasis on compassionate and patient- centered care," said Robert K. Hughes, Executive Director of the HHC Coler-Goldwater Specialty Hospital and Nursing Facility, who will also serve as the Executive Director of the new Carter facility. "Our patients and residents, many of whom have long-term and complex medical needs, will receive care at the highest levels of quality, safety and satisfaction."
"Forty years ago I started with a small dream of buying a few wheelchairs for the patients on Goldwater's Young Adults Ward," said Henry (Hank) J. Carter. "I never imagined that Wheelchair Charities would grow into such an amazing organization, and surely never dreamed that a state-of-the-art hospital would bear my name. I am both honored and humbled that HHC chose to name its newest facility after me. I pray that, as we begin this new journey in Harlem, God will shine His light on our path so that we can continue to enrich and enhance the lives of our patients and residents."
"Today is a testimony to Hank Carter, who has changed lives for the better in ways that few have succeeded and where so much is needed," said Jerrel Slade, a former Goldwater patient who will be a resident of the new Henry J. Carter facility. "For me and for many people, this new facility will make a difference."
"The New York City Economic Development Corporation is proud to partner with HHC to bring the state-of-the-art Carter Specialty Hospital and Nursing Facility to Harlem," said New York City Economic Development Corporation President Kyle Kimball. "This cutting-edge facility will provide world-class medical care for those in need of highly specialized and complex treatment, contributing to the health of the Harlem community and the entire City."
The Henry J. Carter Specialty Hospital and Nursing Facility at 1752 Park Avenue and 122nd Street in Manhattan, features two separate buildings with a combined 365 beds for two distinct types of healthcare services: long-term acute care and skilled nursing care. The facility was built on the grounds of the former North General Hospital and will be the new home to patients and residents who are relocating from the Goldwater campus of the HHC Coler-Goldwater Specialty Hospital and Nursing Facility on Roosevelt Island.
The new facility was constructed through a partnership among HHC, NYC Economic Development Corporation, the Gilbane/ McKissack Joint Venture, and the Array and Geddis architectural firms. It will open to patients and residents at the end of October.
More about the Henry J. Carter Specialty Hospital and Nursing Facility

Round-the-clock long-term Acute Care
Carter's 201-bed long-term Acute Care Hospital (LTACH) is designed, equipped and staffed to provide specialized clinical support around the clock. This includes physicians on site at all times, and sub-specialty care that is always accessible, including pulmonologists, infectious disease specialists, cardiologists, and a full complement of clinical support services such as clinical labs, radiology, respiratory care and pharmacy. The long-term acute care hospital will serve high acuity, medically fragile patients, many of whom require ventilator support, and patients with multiple chronic medical conditions that significantly impact life functioning, such as respiratory failure, congestive heart failure, uncontrolled diabetes, complex infections and complex wounds.
A Skilled Nursing Facility
Carter's 164-bed Skilled Nursing Facility (SNF) will admit residents whose medical needs require management and care that cannot be provided at home. The new facility will feature technologically advanced support equipment and a highly qualified on-site staff that are available 24/7. Services will include:
Skilled Nursing Care/Nursing Home Services
Ventilator Care
Sub-Acute Care: Wound Care, IV Therapy and Tracheotomy Care
Short-Term Rehabilitation
Cardiac Rehabilitation
Physical, Occupational and Speech Therapies
Personalized Diets
Therapeutic Recreation
Palliative Care
Pain Management
Psychology
Dentistry
Ophthalmology
Podiatry
A Focus on Quality of Life for Patients and Residents
Residents can participate in a variety of interactive activities, programs and services that promote a sense of family and home or that facilitate and enrich each person's access to the world beyond the facility. Some on-site features include:
Computers with internet access and assistive devices
Multi-denominational pastoral care
Patient/resident art classes, gardening, music, cooking, and photography
Beauty salon
Music and Memory Program
Exercise, movement and dance therapy
Holiday/cultural/birthday celebrations
Patient-run radio station
Outings to sporting events, cultural centers, shopping, and other places of interest
About Henry J. Carter
Henry J. "Hank" Carter grew up in the Queensbridge Projects, Long Island City, New York. He was educated in the public school system and attended Baruch College. Mr. Carter served in Vietnam, and was awarded the Army's Good Conduct Medal, a Bronze Star, and other military honors. Upon his return to New York, he began a successful career in the banking industry. Nearly 40 years ago, Mr. Carter visited a friend at Coler-Goldwater Hospital on Roosevelt Island who had been paralyzed by a gun shot. He was touched by the special needs of the patients and residents there, and inspired by their perseverance in the face of extraordinary challenges.
To help alleviate suffering and provide independence and hope, Mr. Carter created Wheelchair Charities, Inc. Through Wheelchair Charities, Hank Carter has donated more than $25 million to HHC for a variety of equipment and programs for patients and residents with profound disabilities. This includes thousands of manual and motorized wheelchairs, specially equipped buses, pressure sensitivity beds, therapeutic equipment, and more than 1,000 state-of-the-art computers that feature voice recognition, zoom-text, and a pointer device to facilitate use by quadriplegic individuals. Many devices are the most technologically sophisticated available and can be operated by the movement of a patient's eye.
To learn more about the Henry J. Carter Specialty Hospital and Nursing Facility or to schedule an appointment, call (646) 686-0000 or visit nyc.gov/hhc/carter.
---
Contact: Ian Michaels (HHC) (212) 788-3339
About HHC
The New York City Health and Hospitals Corporation (HHC) is a $6.7 billion integrated healthcare delivery system with its own 420,000 member health plan, MetroPlusHealth, and is the largest municipal healthcare organization in the country. HHC serves 1.4 million New Yorkers every year and more than 475,000 are uninsured. HHC provides medical, mental health and substance abuse services through its 11 acute care hospitals, four skilled nursing facilities, six large diagnostic and treatment centers and more than 70 community based clinics. HHC Health and Home Care also provides in-home services for New Yorkers. HHC was the 2008 recipient of the National Quality Forum and The Joint Commission's John M. Eisenberg Award for Innovation in Patient Safety and Quality. For more information, visit www.nychhc.org/hhc or find us on facebook.com/NYCHealthSystem or twitter.com/NYCHealthSystem.