Free "Health Insurance" Workshops to Educate New Yorkers on Medicare,the Affordable Care Act, and the New York Health Benefit Exchange
Hosted by the New York City Health and Hospitals Corporation and the Centers for Medicare and Medicaid Services
Sessions will explain how to get the most out of Medicare benefits and healthcare reform; open enrollment taking place now.
Sep 11, 2013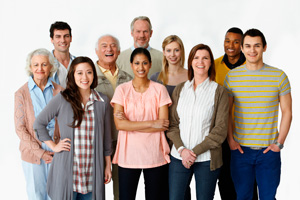 The New York City Health and Hospitals Corporation (HHC) and the Centers for Medicare and Medicaid Services (CMS) will host free public workshops at HHC hospitals and large health centers to help New Yorkers understand and get the most out of benefits during the Medicare open enrollment period, October 1 to December 7, 2013.
The sessions will also include information on health care reform, the Affordable Care Act and "New York State of Health," the new health insurance exchange established by New York State to assist consumers in selecting and purchasing health insurance plans. Open enrollment at New York State of Health begins October 1 and runs through March 31, 2014.
Health insurance specialists from CMS will conduct 13 learning sessions at HHC hospitals and health centers in Manhattan, the Bronx, Brooklyn and Queens between September 24 and December 4.
The workshops will provide Medicare information and materials that are current, accurate and consistent for those who are new to Medicare, those who want a refresher course and prepare coming-of-agers (approaching age 65).
"Many people have questions about the Affordable Care Act and the State's new health insurance exchange, which contains numerous insurance options and offers many New Yorkers subsidies to make coverage affordable," said HHC President Alan D. Aviles. "Senior citizens in particular are a significant and growing part of our patient population and we are providing this important information to assist them in making informed decisions about their healthcare."
Workshop participants will learn about:
The benefits of the Medicare program and how to apply.
The parts of Medicare: Part A: hospital insurance; Part B: medical insurance – outpatient visits, lab work, preventive services; Part C: health plans; and Part D: prescription drug coverage.
The Medicare appeals process.
The Medicare programs in place for people with limited income and resources.
The new Medicare Medication Therapy Management Program.
Updates on health care reform.
How the New York Health Benefit Exchange works.
Other health care resources for the uninsured.
CMS is the federal agency that provides health coverage for 100 million people through Medicare, Medicaid, and the Children's Health Insurance Program. Medicare is a health insurance program for people age 65 or older, people younger than 65 with disabilities, and people with end stage renal disease who require dialysis or a transplant.
"These workshops are an excellent way to inform beneficiaries, caregivers, coming-of-agers, and all who serve people with Medicare," said Norma Harris, CMS health insurance specialist. "Through education, CMS is committed to continuing the important work involved in transforming health care delivery systems and helping to ensure a healthy future for all."
Workshops take place from 9:00 AM to 3:00 PM. Free registration is required. More information, including online registration and a map of each location, is available at the links below. Participants may also register by calling 212-788-3450 .
Sessions are scheduled on these dates:
Tuesday, September 24, North Central Bronx Hospital, 3424 Kossuth Avenue, Bronx
Thursday, September 26, Cumberland Diagnostic & Treatment Center, 100 North Portland Avenue, Brooklyn
Thursday, October 3, Lincoln Hospital Center, 234 East 149th St., Bronx
Tuesday, October 8, Bellevue Hospital Center, 462 First Avenue, Manhattan
Thursday, October 10, Woodhull Medical and Mental Health Center, 760 Broadway, Brooklyn
Tuesday, October 22, Queens Hospital Center, 82-68 164th Street, Queens
Wednesday, October 30, Kings County Hospital Center, 451 Clarkson Avenue, Brooklyn
Thursday, November 7, Elmhurst Hospital Center, 79-01 Broadway, Queens
Thursday, November 14, Jacobi Medical Center, 1400 Pelham Parkway South, Bronx
Tuesday, November 19, Metropolitan Hospital Center, 1901 First Avenue, Manhattan
Thursday, November 21, Coney Island Hospital, 2601 Ocean Parkway, Brooklyn
Tuesday, December 3, Harlem Hospital Center, 506 Lenox Avenue, Manhattan
Wednesday, December 4, East New York Diagnostic & Treatment Center, 2094 Pitkin Avenue, Brooklyn
---
Contact: Ian Michaels (HHC) (212) 788-3339
About HHC
The New York City Health and Hospitals Corporation (HHC) is a $6.7 billion integrated healthcare delivery system with its own 420,000 member health plan, MetroPlusHealth, and is the largest municipal healthcare organization in the country. HHC serves 1.4 million New Yorkers every year and more than 475,000 are uninsured. HHC provides medical, mental health and substance abuse services through its 11 acute care hospitals, four skilled nursing facilities, six large diagnostic and treatment centers and more than 70 community based clinics. HHC Health and Home Care also provides in-home services for New Yorkers. HHC was the 2008 recipient of the National Quality Forum and The Joint Commission's John M. Eisenberg Award for Innovation in Patient Safety and Quality. For more information, visit www.nychhc.org/hhc or find us on facebook.com/NYCHealthSystem or twitter.com/NYCHealthSystem.