Expert Advice: Answers to Frequently Asked Questions about Diabetes Prevention and Management
November is National Diabetes Awareness Month
Nov 15, 2016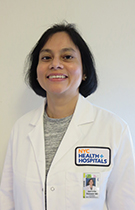 NYC Health + Hospitals marks National Diabetes Awareness Month with information to share with your readers about this chronic disease that is the leading cause of kidney failure, adult blindness, and lower extremity amputation, and a prime contributor to heart disease and stroke. According to the American Diabetes Association, it's estimated that 2 million people in New York City are living with diabetes. NYC Health + Hospitals cares for thousands of adults and children who have diabetes and those at risk for the disease. Our health care providers focus on disease prevention for those at risk and personalized treatment for those diagnosed with the disease–to help all our patients live their healthiest life.
Special attention is given children and young adults who are overweight and therefore at increased risk for diabetes. Adolescents ages 12-21 can receive specialized health services at NYC Health + Hospitals YouthHealth neighborhood centers in all five boroughs. The centers provide a variety of services specially developed for this age group, including heathy weight management programs, nutrition counseling, and support groups.
"Diabetes is a serious disease and those who are diagnosed with the disease put themselves at higher risk of other serious health conditions, including heart and kidney diseases and complications of the eye," said Dr. Gayotri Goswami, Site-Director, Division of Endocrinology and Metabolism, NYC Health + Hospitals/North Central Bronx. "Luckily there are several preventative measures people can take to lessen their chances of getting diabetes."
Dr. Goswami answers frequently asked questions about diabetes prevention and management:
What is diabetes?
Dr. Goswami: Diabetes is a disease in which there is too much sugar in the blood. Blood sugar – or glucose – is controlled by insulin, a hormone made by the body. After eating, food is broken down into glucose, and insulin allows it to absorb into the bloodstream, cells, and organs of the body. Glucose acts as fuel for the body. If you have diabetes, your body does not make enough insulin, or it does not effectively use the insulin it makes. Symptoms of diabetes include excessive thirst, extreme hunger, extreme fatigue, frequent urination, unexplained weight loss, tingling, pain, or numbness in hands and/or feet, blurred vision, and sores, cuts, or bruises that are slow to heal. Additionally, there are two types of diabetes. In Type 1, the body does not produce insulin; this form of diabetes affects children and young adults. In Type 2, the body does not use insulin properly and cannot make enough of it to control blood sugar; most people diagnosed with diabetes have this form of the disease.
Is diabetes preventable?
Dr. Goswami: There are several factors that can increase your chances of getting the disease, including weight gain, family history, unhealthy diet, lack of exercise, and high blood pressure or cholesterol. However, maintaining a healthy weight, cutting back on foods high in sugar, fat, cholesterol, and salt, drinking plenty of water, reducing alcohol consumption, quitting smoking, exercising at least 30 minutes a day, and getting an annual check-up are all things that can be done to lessen your chances of being diagnosed with diabetes.
How can New Yorkers living with diabetes best manage the disease?
Dr. Goswami: It's important for people living with diabetes to learn about the disease and how it affects their daily life. Basic tips for managing diabetes include talking to and seeing a doctor regularly, taking medications as prescribed by a doctor, eating healthy, exercising regularly, managing your weight, monitoring blood sugar by using a blood glucose meter or "glucometer" as directed by your doctor, keeping blood pressure and cholesterol under control, and getting your eyes, feet, and teeth examined regularly.
Find a NYC Health + Hospitals location in your neighborhood, by visiting nychealthandhospitals.org/health_care.
About Dr. Gayotri Goswami MD, FACE:
Site-Director, Division of Endocrinology and Metabolism, NYC Health + Hospitals/North Central Bronx
Assistant Professor of Medicine at Albert Einstein College of Medicine
Site-Leader, NYC Health + Hospitals/North Central Bronx, 4th year Ambulatory Medicine Clerkship
---