Dr. Khoi Luong Is Named Chief Medical Officer for Post-Acute Care Services at NYC Health + Hospitals
Newly created role will oversee clinical services and operations across NYC Health + Hospitals' post-acute care service line
Nov 15, 2017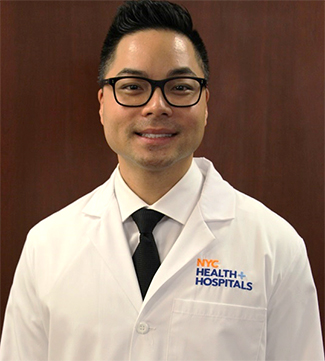 NYC Health + Hospitals today named Khoi Luong, DO, chief medical officer for its post-acute care service line. In this newly created position, Dr. Luong will be responsible for coordinating clinical services and operations of the public health system's five skilled nursing facilities, one Long-Term Acute Care Hospital (at NYC Health + Hospitals/Carter), its short-term rehabilitation services, three Adult Day Health Programs, and its At-Home services (the system's certified home health program).
Dr. Luong will implement, review, and develop clinical protocols, productivity benchmarks, compliance measures, clinical programs, and provider workflow planning, in concert with other health system leaders.
"As our health system transformation progresses, this new position will fill an important place in addressing the specific needs of our patients who require post-acute care, whether provided in an inpatient setting or at home," said Maureen McClusky, senior vice president for post-acute care. "We couldn't ask for a more qualified candidate than Dr. Luong to fill this new role."
Dr. Luong currently serves as chief medical officer at NYC Health + Hospitals/Coler—the largest of the public health system's five post-acute care facilities, with 815 beds—where he has led transformation initiatives involving advance care planning and transitions of care. He has also helped restructure the medical model, which has reduced avoidable hospitalizations; has led post-acute service leaders in developing a congestive heart failure program; and has championed antibiotic stewardship practices.
Dr. Luong received his medical degree from Nova Southeastern University College of Osteopathic Medicine, in Fort Lauderdale. He completed a residency in osteopathic internal medicine at Broward General Medical Center, in Fort Lauderdale, and a fellowship in geriatrics at the Icahn School of Medicine at Mount Sinai, in New York. He holds board certification in internal medicine and geriatric medicine, and is also a certified medical director and a fellow of America's Essential Hospitals. He is a member of the American Medical Director Association, the American Geriatrics Society, and the American Osteopathic Association.
He is assuming his new position this week.
---