Coney Island Hospital Re-Opens WIC Program with Grant from Public Health Solutions and the Robin Hood Foundation
Nutrition program for Low-Income Women, Infants and Children Resumes for Community Hard-Hit by Hurricane
Feb 05, 2013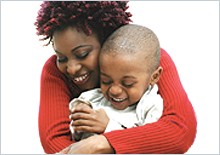 Coney Island Hospital today announced the re-opening of its Women, Infants and Children (WIC) food and nutrition program made possible with a $50,000 grant from Public Health Solutions and the Robin Hood Foundation. The two WIC offices run by Coney Island Hospital have been closed since Hurricane Sandy, affecting 5,000 participants. The grant funding will establish a temporary new WIC office in the community to serve clients from the center that was located inside the hospital campus and is now undergoing repairs, and a second center that operated out of the Ida G. Israel Community Health Center, which is permanently closed.
The new WIC temporary offices are located at Luna Park Senior Center, 2880 West 12th Street, Room 4, Brooklyn, and are open Monday through Friday from 8:00 AM to 4:00 PM. The new site was chosen for its easy access to public transportation and proximity to the former Ida G. Israel Community Health Center. The grant will cover the rent of the temporary location, new office furniture, supplies, and clinical equipment. The Public Health Solutions and the Robin Hood Foundation are also supporting the Coney Island Hospital WIC staff with client and community outreach, as well as client coordination in the clinic.
"We are pleased to welcome back our WIC program clients – the women and children who depend on this vital food and nutrition assistance to keep their families healthy," said Isabel Diaz, Director of WIC programs at Coney Island Hospital. "The opening of our temporary site at Luna Park, thanks to Public Health Solutions and the Robin Hood Foundation, is a huge comfort to our patients and a major step towards our recovery after Hurricane Sandy."
"Public Health Solutions and its Neighborhood WIC program have been glad to be a part of Hurricane Sandy recovery work," said Louise Cohen, Vice President, Public Health Programs at PHS. "We have had a great collaboration with the Coney Island Hospital WIC program as well as with New York State Department of Health WIC, to get this program up and running again to serve families in Coney Island. We are grateful to the Robin Hood Foundation for funding this recovery work."
The WIC Program is federally funded special supplemental nutrition program that serves to safeguard the health of low-income, nutritionally at-risk Women, Infants and Children (to age 5).
The WIC program provides:
Nutritious foods to supplement diets of WIC eligible participants
Nutrition assessment and education on healthy eating and physical activity
Breastfeeding support and counseling
Referrals for health care and other social services
About Coney Island Hospital
Coney Island Hospital is a member of the New York City Health and Hospitals Corporation (HHC) and has served the Southern Brooklyn community since 1875. The 371 -bed hospital has more than 2,900 staff. Inpatient services account for 18,000 discharges annually and an extensive ambulatory care program serves more than 300,000 outpatient primary care and specialty care visits annually. Its emergency room sees more than 72,000 visits every year. Clinical centers of excellence include: Primary Care, Adolescent Medicine and Behavioral Health. For more information, visit Coney Island Hospital.
About HHC
The New York City Health and Hospitals Corporation (HHC) is a $6.7 billion integrated healthcare delivery system with its own 420,000 member health plan, MetroPlusHealth, and is the largest municipal healthcare organization in the country. HHC serves 1.4 million New Yorkers every year and more than 475,000 are uninsured. HHC provides medical, mental health and substance abuse services through its 11 acute care hospitals, four skilled nursing facilities, six large diagnostic and treatment centers and more than 70 community based clinics. HHC Health and Home Care also provides in-home services for New Yorkers. HHC was the 2008 recipient of the National Quality Forum and The Joint Commission's John M. Eisenberg Award for Innovation in Patient Safety and Quality. For more information, visit www.nychhc.org/hhc.
About Public Health Solutions
Public Health Solutions' (PHS) mission is to create and implement innovative, cost effective and population-based public and community health programs, conduct research providing insight on public health issues, and provide services to other not-for-profit organizations to address public health challenges. In particular, our
Neighborhood WIC Program provides supplemental foods, nutrition education, breastfeeding support, and counseling to 46,000 low-income pregnant women, infants and children.
WIC Vendor Management program ensures that food and infant formula purchased with WIC Program food checks are appropriately stocked and fairly priced by the more than 2,000 grocery stores and pharmacies in our catchment area.
About the Robin Hood Foundation
For more than 20 years, Robin Hood has fought poverty in New York City. We find, fund and partner with programs that have proven they are an effective remedy to poverty and are a consistent force for good in the lives of New Yorkers in need. We employ a rigorous system of metrics and third-party evaluation to ensure grantee accountability. The board pays all administrative and fundraising costs, so 100% of donations goes directly to helping New Yorkers in need build better lives. We work closely with our grantees to make them more effective, enabling them to assist even more people.