City Hall In Your Borough: First Year of Electronic Medical Record System at Two Queens Hospitals Shows Improved Patient Experience
Easier Access to Medical Records, Streamlined Medication Refills, and More Efficient Doctor Visits Among the Benefits
Jul 17, 2017
The 2016 adoption of an advanced electronic medical records system at two NYC Health + Hospitals facilities in Queens has led to an improved patient experience, new data, released as part of "City Hall in Your Borough: Queens," show. NYC Health + Hospitals/Queens and NYC Health + Hospitals/Elmhurst adopted the "Best in KLAS" Epic electronic medical record system in April 2016.
"Our health system's transition to Epic is a crucial step in our transformation to better meet the health needs of the communities we serve," said Stanley Brezenoff, interim chief executive officer of NYC Health + Hospitals. "These data confirm our expectations that Epic's electronic medical record is already improving the patient experience, and we remain fully committed to implementing the combined EMR and revenue cycle suite throughout our system to ensure the best possible results for patients and providers."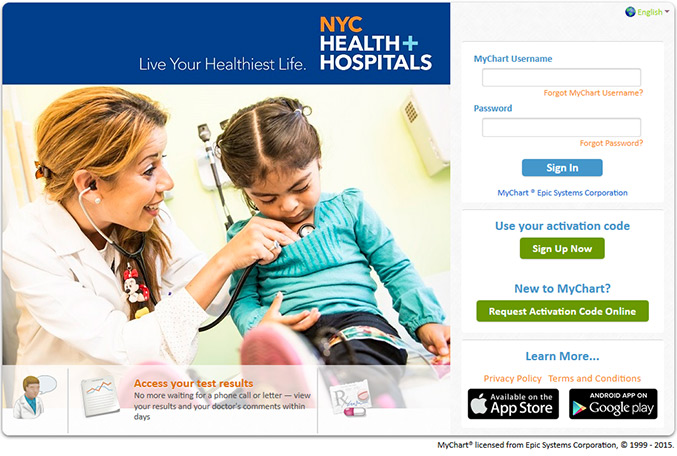 With MyChart, NYC Health + Hospitals patients can manage their health online.
An important feature of the Epic electronic medical record system is its MyChart feature, through which patients are able to manage their health online. Patient interest in MyChart continues to grow—by more than 45 percent from January through May 2017 (from 10,055 to 14,621 registrants), and those using the system are finding meaningful benefits. Medication refills have been ordered 4,300 times. MyChart's path to facilitate patient-provider communications has tallied nearly 4,500 messages to date. And of the 275,788 patient test results that have been released to MyChart, 58,134 have been reviewed by patients. Another popular feature enables surgery status updates to be sent to the mobile devices of family and friends.
Also improving the patient experience, the visit flow for clinic appointments is both quicker and more predictable, on average, than it was before the electronic medical record system was implemented. In the months immediately preceding the implementation of the electronic medical record system, the time between patient arrival and completed visit averaged 104 minutes, with weekly averages ranging as high as 120 minutes. Following implementation, that time was reduced to an average of 80 minutes, with very little weekly variation.
Among the factors that contributed to this improvement are the medical record time stamps that allow for a more structured process to expedite the preparation of rooms and an algorithm that helps minimize the time patients remain idle.
The factor that contributed most significantly to reducing variation in visit flow time was new management of unscheduled visits. Data showed that the two most common reasons for such visits were to request either a medication refill or a same-day appointment. By creating standard processes for these types of visits, the variability in overall visit flow time was dramatically reduced.
At the conclusion of a visit to a provider, patients now receive after-visit summaries that feature bold, intuitive icons and clear follow-up instructions.
Patients are also benefiting is less visible ways. For example, an early alert system and real-time reports are improving the identification of patients with sepsis, in both inpatient and emergency department settings. After helping identify such patients, the electronic medical record system also issues alerts that trigger time-sensitive decisions and action items. It also standardizes sepsis documentation, which aligns with New York State and national regulatory policies.
The electronic medical record system also supports the hospitals' ability to prevent medical errors. Leapfrog, a national independent nonprofit that evaluates hospital quality and safety, gave both hospitals perfect scores in eight categories that measure the electronic medical record system's ability to prevent such errors.
The improved documentation from the electronic medical record system is also providing financial benefit to the hospitals. By better capturing all the complexities of each patient case, the case mix index—a value that reflects the complexity of care provided and ultimately helps determine reimbursement—has increased. In 2015 (pre-implementation), the case mix index at NYC Health + Hospitals/Elmhurst was 0.9418. In 2017 (post-implementation), the case mix index was 1.0015. This change in case mix equates to an approximately $7 million annual increase in revenue captured at the one hospital.
NYC Health + Hospitals is undergoing one of the largest Epic implementations in the country that will ultimately unify 40,000 users in more than 70 patient care sites. Epic's electronic medical record system has been fully adopted at NYC Health + Hospitals/Queens, NYC Health + Hospitals/Elmhurst, NYC Health + Hospitals/Coney Island, the health system's home care operations, and 20 community-based health centers in Queens.
As was announced in May, NYC Health + Hospitals will also implement Epic's advanced revenue cycle technology to improve efficiency and ensure that the health system is collecting the maximum amount of revenue for the services it delivers. Epic's revenue cycle technology and patient electronic medical record system will integrate seamlessly. The rollout of the integrated platform is expected to begin in the fourth quarter of 2018. The integrated revenue cycle and electronic medical record suite is expected to be fully completed in the last quarter of 2020.
---