Bellevue Hospital Center Re-Opens With Full Ambulance and Level 1 Trauma Services
Feb 07, 2013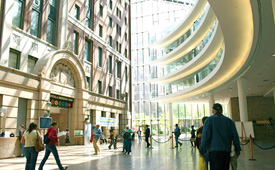 Alan D. Aviles, President of the New York City Health and Hospitals Corporation (HHC), announced today that Bellevue Hospital Center has fully re-opened, resuming its Level 1 Trauma Center status, opening all 828 inpatient beds, and once again filling a critical healthcare need for the community.
Bellevue was evacuated for the first time in its 276-year history on October 31, when its basement, which contained over 250 pieces of equipment critical to running the facility, was flooded by millions of gallons of water pushed ashore by Hurricane Sandy. Intensive restoration work has been ongoing ever since to repair or replace equipment damaged by the storm. In many cases equipment such as electrical switching gear has been relocated out of the hospital's basement to higher elevation areas on the first floor.
"It has been a labor of almost unimaginable scope, but Bellevue is back," said Aviles. "My gratitude and respect goes out to the army of professionals and laborers from HHC and almost every trade who worked around the clock for over three months to restore Bellevue. It's because of their dedication that the hospital is once again able to admit patients, perform surgeries, receive critical ambulance cases and function as a Level 1 Trauma Center.
"We re-open Bellevue not just with a plan for today, but also with a long-term plan to strengthen Bellevue against storms that may strike in the future," continued Aviles. "The repair work has been performed from the beginning with an eye toward the future, fortifying important electrical systems, elevators, water supply pumps and more. This work will continue well after Bellevue returns to normal service."
The full re-opening with inpatient admissions, intensive care capabilities, and trauma and inpatient behavioral health services follows an inspection on February 5th and 6th by the New York State Department of Health, as well as the State Office of Mental Health. All services have been restored with the exception of a few outpatient clinics that had been temporarily relocated to other HHC facilities, and will return to Bellevue over the next several days.
"Ramping up to full service will take some time but we're ready," said Lynda Curtis, Bellevue's Executive Director. "Our staff is anxious to get back to their regular work helping the people of New York City."
Restoration began almost immediately after Sandy, and on November 19, less than three weeks after it closed, Bellevue was able to re-open several primary care clinics, 24-hour walk-in urgent care, and outpatient pharmacy services. On December 10, the hospital re-opened its emergency department in a limited capacity and two weeks later began receiving ambulance for non-critical cases. Additional outpatient clinics were re-opened as well, with over 40 clinics available as of last week.
HHC also continues to make progress restoring Coney Island Hospital in Brooklyn, which was also forced to evacuate following Sandy. Coney Island's Tower Building has re-opened along with most of its inpatient beds, and the hospital is admitting walk-in patients from its emergency department and patients from other HHC facilities. It has inpatient adult psychiatric beds available, as well as medical/surgical and intensive care beds. It also is providing 24-hour walk-in urgent and emergency care, has numerous outpatient clinics open, and is operating a fleet of mobile medical vans providing primary care services and flu shots in parts of Brooklyn and Staten Island affected by Sandy. Coney Island is not receiving ambulances as its emergency department was damaged by Sandy and remains at less than half capacity.
About Bellevue
Bellevue is a member of the New York City Health and Hospitals Corporation (HHC) and is America's oldest continuously operating hospital, established in 1736. Affiliated with the NYU School of Medicine, Bellevue is a major referral center for highly complex cases. The 828-bed hospital has more than 4,000 employees and runs an extensive ambulatory care program that provides more than 500,000 outpatient primary care and specialty care visits annually. Its emergency room sees more than 125,000 visits every year. Clinical centers of excellence include: Emergency Medicine and Trauma Care; Cardiovascular Services; Designated Regional Perinatal Center and Neonatal Intensive Care Unit (ICU); Comprehensive Children's Psychiatric Emergency Program; and Cancer Services..
About HHC
The New York City Health and Hospitals Corporation (HHC) is a $6.7 billion integrated healthcare delivery system with its own 420,000 member health plan, MetroPlusHealth, and is the largest municipal healthcare organization in the country. HHC serves 1.4 million New Yorkers every year and more than 475,000 are uninsured. HHC provides medical, mental health and substance abuse services through its 11 acute care hospitals, four skilled nursing facilities, six large diagnostic and treatment centers and more than 70 community based clinics. HHC Health and Home Care also provides in-home services for New Yorkers. HHC was the 2008 recipient of the National Quality Forum and The Joint Commission's John M. Eisenberg Award for Innovation in Patient Safety and Quality. For more information, visit www.nychhc.org/hhc.