Heart Attack at 42 Jolts Him to Change
Last summer, Allan Wright felt a searing pain in his chest. Suspecting heartburn, he took antacids, but all night, the pain persisted. Finally, at about 6 a.m., Wright called an ambulance and was rushed to NYC Health + Hospitals/Harlem where he was told he had suffered a heart attack.
While normal blood pressure is 120/80, Wright's blood pressure when he arrived at the hospital had soared to 180/115.
"I was scared when I found out it was a heart attack — hell, I was scared to death feeling it happen," said Wright who is 42. "I couldn't believe it was happening to me. I never expected anything like this to go down."
For Wright, the main factor leading to his heart attack was high blood pressure, the dangerous condition known as the "Silent Killer." In New York City, one in four New Yorkers has high blood pressure. Only about half have it under control.
Wright was diagnosed with high blood pressure in 2010 and was taking medication as prescribed, but had not been dieting or exercising. His blood pressure caused unbearable headaches, still he didn't think much of it.
"I was always on the move," says Wright, who has seven children and lives in Harlem. "I thought that if I kept myself busy and took my meds… it would just take care of itself."
Fortunately, the effects of Wright's heart attack were minor, and doctors repaired the damage by placing a stent in his right coronary artery. After the procedure, Wright was enrolled in the NYC Health + Hospitals Treat-to-Target (T2T) Program, for patients with high blood pressure.
In the program, doctors and nurses set a blood pressure target for the patient and create a treatment plan to reach the goal. Frequent phone calls and appointments ensure higher rates of success and better understanding of the necessary steps.
"In the Treat-to-Target program, we don't mess around," says Harrisse Kung, RN, a Treat-toTarget nurse. "Every patient with high blood pressure gets a call 48 to 72 hours after we've been alerted. We stay in touch for four months to make sure they keep their appointments."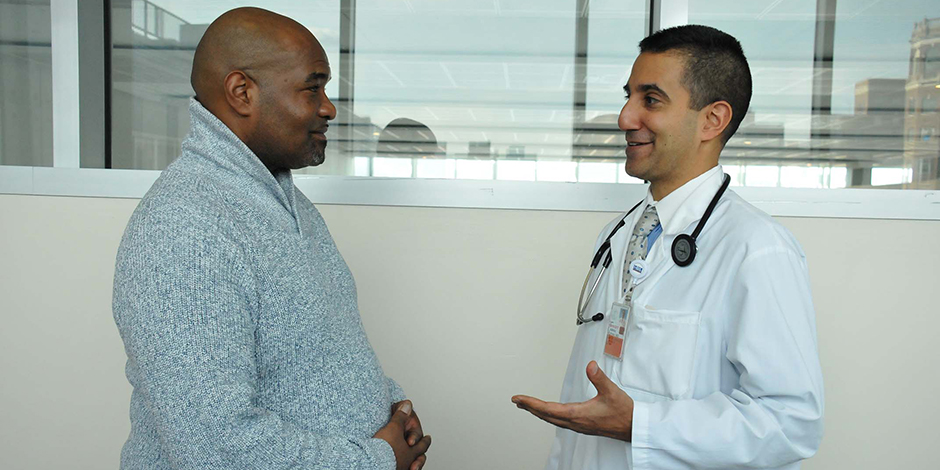 Last year, across our health system we treated more than 110,000 patients for high blood pressure. NYC Health + Hospitals/Gotham Health, Cumberland saw the biggest improvement in control from 52.6% in December 2015 to 65.3%. NYC Health + Hospitals/Gotham Health, Morrisania had the highest overall control rate meaning 75% of their patients achieved healthy blood pressure levels. Our systemwide blood pressure control rates improved from 62.7% to 65.9%, which represents more than 2,000 people who are on their way to living a healthier life.
With the help of the T2T team, Wright cut fried and fatty foods from his diet, embraced fresh fruits and vegetables, and added exercise. His blood pressure is now 135/90.
"Allan has made fantastic progress," says Dr. Damian Kurian, Chief, Cardiology, NYC Health + Hospitals/Harlem. "High blood pressure is a serious problem that is very much preventable. You don't have to be perfect, but you do have to be vigilant about taking your medication and making some lifestyle changes. I hope Allan's story inspires others to do just that."
Next on Allan's list: quitting cigarettes.
Wright adds, "High blood pressure truly is a silent killer. I'm just lucky my body gave me a warning — and I listened."
Learn more about Hypertension and Quitting Smoking
Click here to find a doctor near you.