Hard Habit to Break
Oswald "Ozzie" Vargas understands addiction. For years, the recently retired 66-year-old former health educator, counselor, and patient care coordinator worked with people who suffered from drug addiction. He just never thought of himself as an addict, having been a chronic smoker for more than 40 years. "I spent my life helping others deal with drug abuse," he says. "But I never thought of my smoking as a problem."
For Vargas, smoking was his coping mechanism. He smoked when he was anxious, angry, upset, or just bored. He smoked to curb hunger when he didn't have time to eat. He could go through a whole pack in one afternoon. "Smoking got me through the day. I didn't think about what it was doing to me."
But that soon changed three years ago when Vargas was diagnosed with mild emphysema. "I was in shock," Vargas says. "I see TV ads about the dangers of smoking all the time, but never thought it could happen to me." And soon after, he joined the NYC Health + Hospitals/Lincoln's Smoking Cessation program.
The Smoking Cessation program is offered throughout NYC Health + Hospitals to assist smokers who want to quit. The program consists of one-on-one sessions with a counselor who offers guidance, support, and NRTs (nicotine replacement therapy), such as nicotine gum, lozenges, or patches.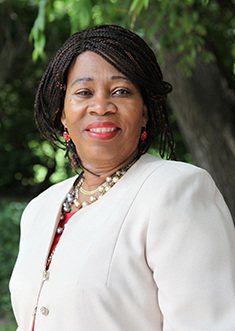 Yvonne P.C. Willis, Manager of the Smoking Cessation Program, NYC Health + Hospitals/Lincoln
Vargas started to see Yvonne Willis – Manager of the Smoking Cessation Program – and her team for help.
"We offer a smoker support and care," Willis explains. "We listen to what they have to say. We ask why they smoke, how long have they been smoking, and how often have they tried to quit. We talk to them about how to cope with triggers and to identify barriers that keep them from quitting."
Joining the program, Vargas found the motivation he needed to begin quitting. At first, he started cutting down on cigarettes by using the patch. Soon after, he asked his co-workers and friends to help him by not giving him a cigarette should he ask for one. He also asked the bodega located near his home to stop selling him cigarettes. "I never had anyone to turn to for support," he says. "With this program, you're not alone and there are people like Ms. Willis and her team who want you to succeed."
The program emphasizes the dangers of smoking. It can lead to lung problems like emphysema or chronic bronchitis, heart problems, stroke, and cancer. Smoking kills about 12,000 New Yorkers every year.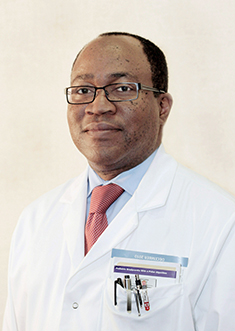 Dr. Akinola Fisher, Chief of Ambulatory Care, NYC Health + Hospitals/Lincoln
"Tobacco dependence is a chronic disease," Dr. Akinola Fisher, Chief of Ambulatory Care at NYC Health + Hospitals/Lincoln, states. "It should be treated like any other medical condition. A patient takes medicine to manage their diabetes – they should also get help to treat their tobacco habit."
Throughout NYC Health + Hospitals, all patients are screened for smoking. "I tell my patients one thing that they can do to improve their health – quit smoking," Dr. Fisher says, noting that 60% of his patients are smokers. "But you don't have to go through this alone. We can help. If you don't succeed at first, don't get discouraged. You just have to keep trying."
Today, Vargas has been smoke free for a year. "I don't think nicotine patches alone would have done it. I've worked with addicts all my life so I've seen the struggle." He credits Ms. Willis and her team for helping him reach this milestone. "At first, I didn't think I could do it, but I did."
For more information on how you or a loved one can get help to quit smoking, please click HERE or find an NYC Health + Hospital patient care site near you. Please click HERE for more information on Men's Health services.