Gladys Madera: Staying Healthy in Her Golden Years
For nearly 20 years, Gladys Madera has received care at NYC Health + Hospitals in the Bronx hoping to ensure she stays strong in her golden years.
Every year, the 69-year-old-grandmother, who is originally from the Dominican Republic, schedules regular osteoporosis screening tests, gynecology exams, and mammograms. In addition, Madera sees a psychotherapist who has helped her manage depression and anxiety.
But even with her diligent attitude toward staying healthy, Madera faced an unexpected crisis when her chest pains were diagnosed as a more serious heart condition.
"I thought it was my asthma," Madera said. "But the doctors discovered my heart was palpitating and I needed specialized cardiac care."
She was diagnosed with tachycardia / bradycardia syndrome, a condition when the heart rate alternates between abnormally fast and slow rhythms. To treat the condition, Madera required surgery to implant a pacemaker.
"The doctors always treated me with respect," she said. "But, after they gave me the pacemaker, I can also say that they saved my life."
According to the NYC Dept. of Aging, Older New Yorkers are the fastest-growing segment of the City's population. New York City's population over 60 comprises 580,355 men and 827,280 women; or 41 % male and 59 % female. At age 85, the number of women is about double that of men.
The dramatic increase of the young elderly, like Madera, is challenging health care providers to better meet the needs of aging individuals.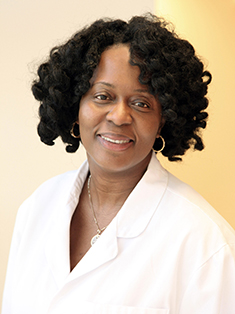 Dr. Tiffany Coke, NYC Health + Hospitals/Lincoln
Across NYC Health + Hospitals, doctors provide care to over 68,000 women over the age of 65. Madera's primary physician, Dr. Tiffany Coke, says her experience highlights the importance of older women continuing to see their doctors for regular check-ups. She said Madera's optimistic attitude about health should be an example for women of all ages.
"I adore Ms. Madera. She is always happy with the care we give her, but without her cooperation and compliance we could not do anything," Coke said.
With the friendship and support of her doctors, Madera says keeping on top of her health is a pleasant and sometimes fun experience. On a recent hospital visit, Gladys walked through the doors and was greeted warmly by the security guard, the MetroPlusHealth representative, and a neighbor who was waiting for his own appointment.
"I feel good when I come here," she said. "I hope other women understand why they need to take good care of themselves, too."
To find more information on Women's Health services, visit Healthy Women = Healthy Communities site.