Patients Get More than Medicine at NYC Health + Hospitals/Gotham Health
At the NYC Health + Hospitals/Gotham Health center in East Tremont, patients are welcomed as family. The staff takes the time to get to know their patients individually, hoping to earn their trust by getting past any barriers and treating them – first – with kindness.
For 63-year-old East Tremont resident, grandmother, and NYC Health + Hospitals/Harlem retiree, Elise Badillo, having a health care center in her neighborhood meant having a doctor nearby for all her family needs. She raised four children as a working mother over the years, but through it all, she had the support and encouragement from the staff at Gotham Health.
"I've been coming here over 30 years," Badillo says. "I've brought all of my children here since they were babies. I brought one of my grandchildren for a check-up. You're never rushed through your appointment – something that can happen at other places. They make you feel better no matter what you're going through. I will never stop coming here."
Many of the patients in the East Tremont neighborhood come from ethnically diverse backgrounds speaking various languages where communication – especially with medical terms – can be a challenge.
"Our job is to make sure a patient is heard and understood," says Dr. John Maguire, family medicine physician. "Many of them can be intimidated by a doctor. I use humor to break the ice. Sometimes, they will just nod and say 'yes' to anything you tell them without really understanding it. Making the correct diagnosis is only one part of my job. A larger part is to get a patient to understand that diagnosis and to become fully engaged in the treatment plan."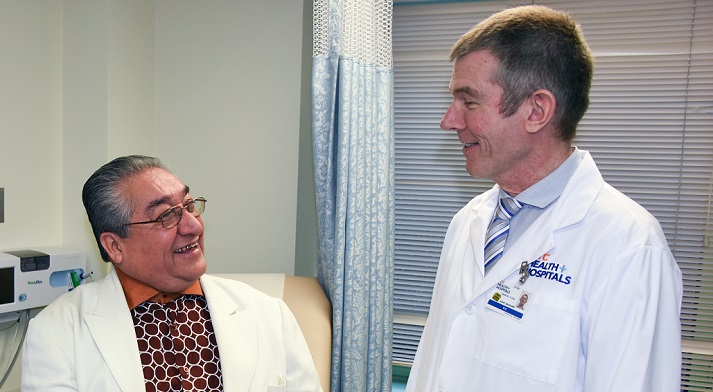 Gotham Health Physician Dr. John Maguire speaks with patient David Marin.
David Marin, a 66-year old retired photographer and videographer, makes it a point to get regular check-ups. "You develop a relationship with the staff," he says. "When I am sick, I can usually make an appointment right away to see someone. I also have diabetes and high blood pressure, but both are under control because they are always on top of my care."
The NYC Health + Hospitals/Gotham Health center in East Tremont provides family medicine, behavioral health care, and social services. As part of Mayor de Blasio's initiative to expand and upgrade community care centers, the health center has recently acquired new equipment and renovated many of their exam rooms and waiting area offering an updated look and feel with a patient's comfort in mind.
"Health care is a right, not a privilege," says Dr. Maguire. "We want to offer the best medicine to our patients. We listen to them – their fears and goals – and we care for them. If we can't offer a cure, we can offer them dignity, respect, encouragement, and make this place a home for patients."
Please call 646-815-9700 to make an appointment at NYC Health + Hospitals/Gotham Health in East Tremont. Please click HERE for a list of all other NYC Health + Hospitals/Gotham Health centers that provide pediatric, adolescent, women's health services, or adult primary care.