Frances Joe: Emerging from a Storm
When Frances Joe came to her Harlem home from work one winter evening, she felt a pain like no other. "It felt like a sledgehammer went right through my head," she said.
Joe was rushed to a hospital, where doctors determined that she suffered from a brain aneurysm. But the brain surgery that followed turned out to be the easy part.
After the operation, Joe had to leave a job she loved, caring for sick veterans. She struggled with high blood pressure, spiraled into depression, and attempted suicide. "I just kept thinking, why did this happen to me? How can I possibly get through this?" she recalled.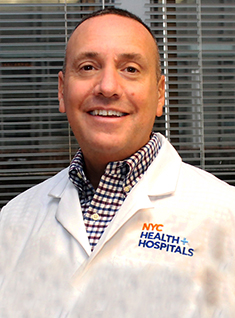 Dr. Andrew Wallach, NYC Health + Hospitals/Bellevue
On the recommendation of her surgeon, Joe met with Dr. Andrew Wallach, a primary care doctor at NYC Health + Hospitals/Bellevue. "At my first appointment, he told me, 'I'm not going anywhere. We're in this together,'" Joe said.
Dr. Wallach coordinated with specialists across the hospital to get Joe the rehabilitation and mental health services she needed to get better.
While working on getting Joe's blood pressure under control, Dr. Wallach engaged her family into her care, getting to know her son and other family members along the way.
"In primary care, we can't treat patients in a vacuum," says Dr. Wallach. "It's important for us to get to know our patients in the full context of their lives and support systems."
As Joe's health got better, her relationship with her doctor got stronger. She continues to see Dr. Wallach for regular checkups and all of her health needs.
Joe is one of thousands of patients who gets primary care services at NYC Health + Hospitals. In 2016, New Yorkers made 1.6 million primary care visits to our 11 hospitals and more than 60 neighborhood health centers across the five boroughs. Our expert care teams specialize in helping patients like Joe manage chronic health conditions, meet their health goals, and live their healthiest life.
Today, Joe feels lucky to be alive. "I went through a storm, and my doctor saw me through it," she said. "Without his care and support, I don't think I'd still be here."
Learn more about primary care services here or find a primary care location near you.
To find more information on Women's Health services, visit Healthy Women = Healthy Communities site.