Beating Alcohol Addiction
In recent years, Angel Rodriguez knew his alcohol use was spiraling out of control.
Rodriguez was drinking every day, turning to beer as his beverage of choice at lunch and dinner. In photos of family gatherings with his seven children and 27 grandchildren, he noticed dozens of empty cans strewn on the floor. On some occasions, Rodriguez drank so much he would pass out.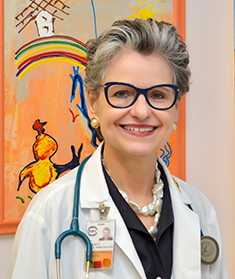 Dr. Nora V. Bergasa, Attending Physician at NYC Health + Hospitals/Woodhull Hepatology Clinic and Chief of Medicine at NYC Health + Hospitals/Metropolitan
Although his family knew he had a problem, the Bushwick grandfather said he was hiding the devastating impact that alcohol was having on his health, specifically his liver. Unable to endure the pain, Rodriguez turned to NYC Health + Hospitals/Woodhull's Hepatology Clinic where he met Dr. Nora Bergasa, who is recognized internationally for her research in liver disease. Bergasa is also Chief of Medicine at NYC Health + Hospitals/Metropolitan in East Harlem.
Dr. Bergasa recommended a liver biopsy, which revealed a liver badly damaged by cirrhosis due to his decades of alcohol abuse.
She discussed the diagnosis with Rodriguez and told him that if he did not stop drinking he would go into liver failure. "He had one choice," she said, "abstain from alcohol completely and forever."
"I'll tell you the truth. I started crying right there, thinking about my family, my grandkids," Rodriguez recalled. "I didn't want to put them through this anymore. I knew I had to stop drinking."
To treat his alcohol addiction, Dr. Bergasa prescribed naltrexone, a medication used to suppress alcohol consumption. After one year on the medication, Rodriguez was abstinent from alcohol. Since then, he has been sober for five years and his liver has improved.
"When you speak to Angel, you learn that he loves his family very much," Dr. Bergasa said. "He knew what he had to do to treat his addiction."
Through his routine follow-ups with Dr. Bergasa, Rodriguez said he shared many stories about his family and told her how his sobriety had strengthened his relationship with his children and grandchildren. He expressed gratitude to Bergasa for ending his alcohol addiction.
"She told me how sick I was and she saved my life," he said. "I stopped drinking and I'm a new person. I feel healthy and I can enjoy life now."
To keep in shape, Rodriguez said he does a lot of walking in the neighborhood and tries to eat more fruits and vegetables. When asked what advice he would offer to others suffering from alcohol addiction, Rodriguez says they need to stop making excuses.
"Looking back, I used everything as an excuse to drink. My job is making me drink. My kids are making me drink," he said. "If you have a problem, you need to stop making excuses to drink. You need to find a way to get better."
---
Learn more about NYC Health + Hospitals programs for Alcohol and Drug Dependency.