Angelique Silva: Finding Strength Amid Battle with Depression
Angelique Silva's childhood was spent caught up in the middle of family fights. An easy target for verbal abuse, she suffered from low-esteem – constantly worrying about her weight, appearance, and self-worth. As the years went by, she became more anxious about her future.
"I couldn't tell if I was sad or depressed, but I felt hopeless" Silva says. "I kept myself together, never showed how bad I felt. Everyone thought I was fine."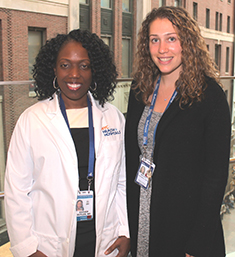 Dr. Esther R. Butler and Melissa Horowitz of NYC Health + Hospitals/Bellevue
Last August, a scheduled check-up with her primary care doctor, Dr. Esther Butler at NYC Health + Hospitals/Bellevue, led her to finally confront her feelings. After she screened positive for depression, Dr. Butler recommended Silva for a special program that provides extra support for patients like her.
She began to work with Melissa Horowitz, a depression care social worker, who helped her sort through her feelings and taught her how to cope with stress and anxiety.
"Angelique has shown that her commitment to therapy and her consistency with treatment has contributed to her success with managing her symptoms of depression and anxiety," Horowitz says. "Angelique is an intelligent, strong, motivated and artistic woman who exemplifies how collaborating with providers on the Depression Care Team at Bellevue can ultimately lead to living a happier and healthier lifestyle."
The NYC Health + Hospitals system has made depression screening and treatment part of routine care. Under the Collaborative Care for Depression program, patients work with their primary care physician to determine the best course of treatment. In 2016, nearly 178,000 patients were screened for depression. About 11,000 had positive results and were directed to specialized care teams for further evaluation.
"Patients who are diagnosed with depression are often afraid to access the mental health services they need," Dr. Butler says. "Our approach makes it easy to help people who are living with depression to seek care and explore a variety of treatment paths. We make sure they don't fall through the cracks before they are connected with the right service."
Silva is currently covered under her father's health plan, which is about to expire next year. She has signed up with MetroPlusHealth, ensuring access to affordable health insurance and continuing, quality medical treatment at NYC Health + Hospitals.
Now at age 25, Silva is studying Art History at a CUNY Community College, taking kick-boxing lessons, and waiting for more opportunities to open up for her.
"Anxiety and depression held me back. I felt like I would fail at anything I wanted to do no matter how hard I tried," she says. "Working with Melissa has given me the confidence I need to pursue my dreams. I'm taking back my life."
If you or a loved one would like to speak to someone about depression, please click HERE to learn more about our services or click HERE to find an NYC Health + Hospital patient care site near you.
For more information on Women's Health services, visit Healthy Women = Healthy Communities.