Beat Heat-Related Illness
You're probably all ready for hot fun in the summertime, but don't let the high temperatures lay you low! Here are a few guidelines for staying healthy in the heat.
DRINK LOTS OF FLUIDS
Rule number one: don't let yourself become dehydrated. Bump up your beverage intake – plain water is best – and try to keep ahead of getting too thirsty. It's also important to be aware that alcoholic and sugary drinks can accelerate the body's dehydration.
NOTE: if your doctor limits your fluid intake or has you on water pills, ask your doctor how much you should drink while the weather is hot.
DRESS FOR THE WEATHER
Wear lightweight, light-colored, loose-fitting clothing when you know you'll be out and about on a very hot or sunny day. It's tempting to wear as little as possible, but in many cases a light covering helps provide the body a bit of shade while letting sweat escape.
WEAR A HAT
Don't let the sun fry your brain! Shade that dome with a light-colored hat – a brim can protect your nose, neck, and shoulders from those burning rays of the sun.
SEEK OUT COOLING OPPORTUNITIES
Walk on the shady side of the street, pause under a leafy tree, or duck into a store to soak up some AC. If you don't have an air conditioner at home, cool off in the bath or shower or seek out a 'cooling station,' which are often set up to accommodate overheated folks on very hot days. Check in on elderly neighbors and make sure they are staying cool, too.
LIMIT OUTDOOR EXERCISE, AVOID THE HOTTEST HOURS
Take it easy – stay indoors, lay low during the hottest parts of the day, and limit strenuous activity to early morning and the cooler evening hours.
BE MINDFUL OF CHILDREN, THE ELDERLY, THE DISABLED, AND THE INFIRM
Babies, young children, and the elderly are more vulnerable to heat and should be checked on often. People with mental health issues may require our help to ensure they are taking hot-weather precautions and drinking enough. And naturally those already vulnerable due to chronic conditions, high blood pressure, or heart disease should take extra precautions and receive extra care.
For more information, visit the Center for Disease Control's Extreme Heat Preparedness Information Site.
---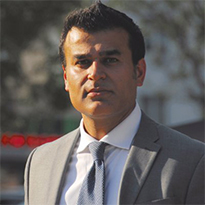 "With the summer heat fast approaching, we want New Yorkers to be aware that heat-related illnesses can be dangerous or potentially fatal even to people who are otherwise in very good physical condition. Extended periods in high temperatures, inadequate fluid intake, and overexertion can all lead to heat exhaustion, heat cramps, or heat stroke. So it's extremely important to familiarize yourself with high-temperature coping strategies, and to help others stay safe as well."
-RAJ GULATI, MD,
NYC Health + Hospitals/Bellevue
Chief of Adult Emergency Service,
Director of Emergency Services