Ask Our Expert: Helping Moms with Postpartum Depression
After giving birth, it is common for some women to feel stressed, sad, anxious, lonely, tired or even weepy. But, other mothers experience a much more serious mood disorder known as postpartum depression (PPD).
According to the Centers for Disease Control and Prevention, one out of every 10 women experience postpartum depression. In New York City, some 20 percent of lower income mothers develop symptoms of depression after pregnancy.
PPD doesn't go away on its own. It can appear days or even months after delivering a baby and can last for many weeks or months if left untreated. PPD can make it hard to get through the day, and it can affect a mother's ability to take care of her baby, or herself.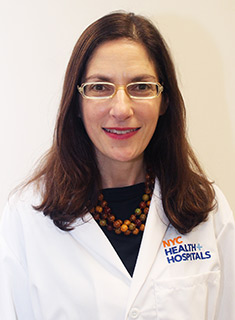 PPD can affect any woman—women with easy pregnancies or problem pregnancies, first-time mothers and mothers with one or more children, married women or single moms, of any income, age, race or culture.
Dr. Judy A. Greene, Director of Women's Mental Health at NYC Health + Hospitals/Bellevue, says the hospital has been able to reach more women by integrating maternal mental health with general women's health. Instead of referring moms to a mental health facility, they coordinate with ob-gyns and pediatricians to help moms.
In addition, NYC Health + Hospitals/Woodhull in Brooklyn also has two support groups for pregnant women and new mothers, in English and Spanish.
Symptoms
The symptoms of postpartum depression are similar to symptoms for depression, but may also include:
Crying more often than usual
Feelings of anger
Withdrawing from loved ones
Feeling numb or disconnected from your baby
Worrying that you will hurt the baby, or worried thoughts about your baby's health
Feeling guilty about not being a good mother or doubting your ability to care for the baby
Difficulty sleeping even when your baby is sleeping
Risks
Certain factors may place some women at a higher risk of PPD.
Being a teen mom
Partner-related stress or physical abuse
Financial stress or employment problems
Tobacco use during pregnancy
Delivery of a low birth weight infant or baby with medical problems
Treatment
Postpartum depression is a real, but treatable, psychological condition. If you're experiencing symptoms, seek help by taking these steps:
Don't face PPD alone. Contact an NYC Health + Hospitals primary health care provider and get professional help.
Talk openly about your feelings with your partner, other mothers, friends, and family.
Join a support group for mothers—ask your health care provider for suggestions if you can't find one.
Find a relative or close friend who can help you take care of the baby.
Get as much sleep or rest as you can even if you have to ask for more help with the baby —if you can't rest even when you want to, tell your primary health care provider.
As soon as your doctor or other primary health care provider says it's okay, take walks, get exercise.
Try not to worry about unimportant tasks—be realistic about what you can really do while taking care of a new baby.
Cut down on less important responsibilities
If you are having thoughts of hurting yourself or your baby, seek help immediately.
Put the baby in a safe place, like a crib, and call a friend or family member.
Call your doctor's or other primary health care provider's emergency number.
Go to your local emergency room.
To learn more about the Mother's Group at NYC Health + Hospitals/Woodhull in Brooklyn, contact Gianna Lafronza at 718-963-8371.
For information on the wide range of services offered for women at our hospitals and health centers, go to Women's Health Services.