3 Low-fat Recipes, Loaded with Flavor
MetroPlusHealth Health Plan teamed with Chef James Briscione, Director of Culinary Research at the Institute of Culinary Education, and Hot 97 Radio Personality DJ Enuff to show how to prepare a healthy low-fat meal while still enjoying great flavor. Chef Briscione takes 3 traditional favorites and updates them with a healthy twist. Watch the cooking video and then try these dishes at home: Black Bean and Quinoa Falafel; Chicken Meatballs and Marinara Sauce; and Cheesecake Parfait with Fresh Strawberries.
Black Bean and Quinoa Falafel
Serves 6
Ingredients:
2 tablespoons olive oil
2 cups yellow onion, finely chopped
1 tablespoon garlic, minced
½ teaspoon ground cumin
½ teaspoon ground coriander
½ cup cilantro, chopped
½ cup parsley, chopped
½ cup sun dried tomato, cut into pieces
15 oz can black bean, drained
2 cups cooked quinoa
1 egg
Directions:
Heat the olive oil in a large saute pan, add the onions and cook over medium heat until tender, and lightly browned, 4-5 minutes. Stir in the garlic, ground cumin, coriander and a pinch of salt; cook 1 minute more. Remove from the heat and set aside to cool.
Combine the onions, cilantro, parsley and sun dried tomatoes in a food processor and pulse until finely chopped. Do not puree. Add the black and pulse again.
Transfer the mixture to a bowl and stir in the quinoa and egg. Mix well.
preheat oven to 425˚F
Form small patties of the mixture and place on a well oiled, foil-lined baking sheet. When all of the patties are on the tray, drizzle with additional olive oil and place in the oven to roast until lightly browned on the edges, about 12 minutes.
---
Healthy Chicken Meatballs with Marinara
Serves 6
15 Minute Marinara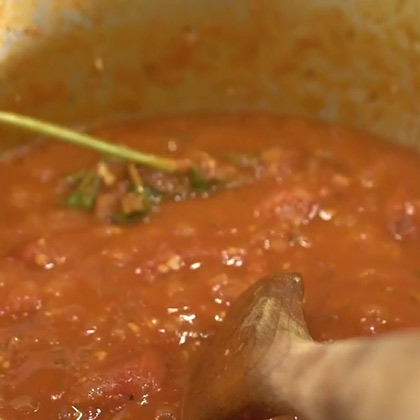 Ingredients:
2 tablespoons olive oil
1 cup minced yellow onion
4 garlic cloves, minced
1 (28-ounce) can tomatoes
Fresh herbs tied into a bundle- basil, thyme, sage, oregano, marjoram
1 cup water
Pinch of sugar (optional)
Directions:
Sweat the onions and garlic. Heat the olive oil in a medium saucepot. Add the onions and garlic and season with salt and a few grinds of black pepper. Cook over a medium flame until tender but not browned.
Simmer the sauce to develop flavors. Add the canned tomatoes, herbs and water. Bring the mixture to a boil, and season again to taste with salt and pepper. Reduce the heat to a simmer and cook 10 minutes.
Finish. Taste the sauce a final time, adjust the seasoning and add a pinch of sugar if it is too acidic. The sauce may be pureed if desired or used as is. Keep sauce refrigerated for up to 2 weeks or freeze to keep up to 6 months.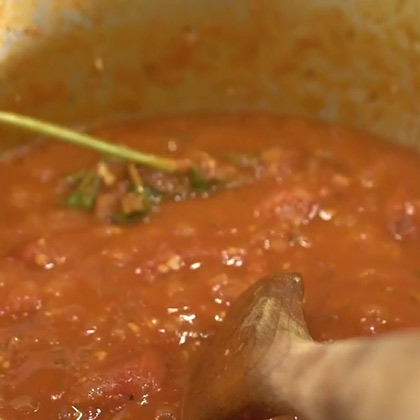 Healthy Chicken Meatballs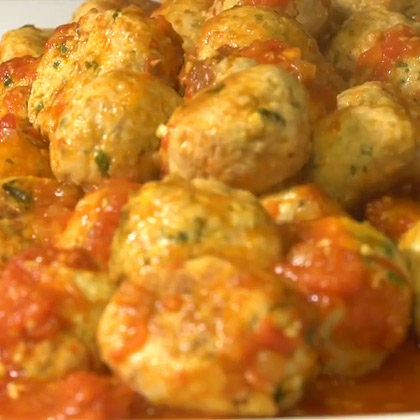 Ingredients:
½ cup breadcrumbs
½ cup chopped fresh parsley
½ cup skim ricotta cheese
½ cup parmesan cheese
¼ cup 2% milk
1 teaspoon dried oregano
¼ teaspoon crushed red pepper flakes
½ teaspoon ground fennel
2 large eggs
2 pounds ground chicken
2 teaspoons salt
2 tablespoons olive oil
Directions:
Combine the breadcrumbs, parsley, ricotta, parmesan, oregano, red pepper flakes, fennel, and eggs in a bowl and whisk well to combine. Let the mixture stand 5 minutes, or more.
Add the chicken and salt and blend well. Form into balls lightly coat in oil. Roast in a 425˚F oven until well browned, about 15 minutes.
Transfer the cooked meatballs to the prepared marinara and simmer 15 minutes more before serving.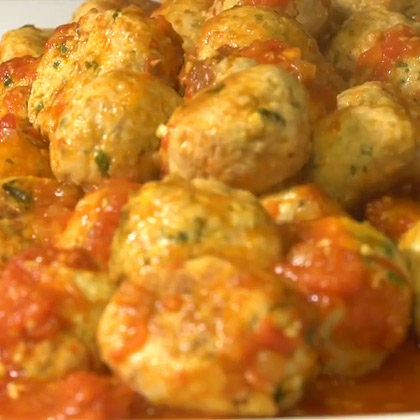 ---
Cheesecake Parfait with Fresh Strawberries
Yield: 6 Servings
Crust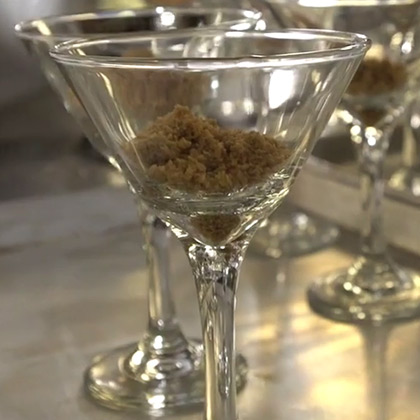 Ingredients:
1 package graham crackers (9 pieces)
2 tablespoons cup sugar
¼ teaspoon ground ginger
¼ teaspoon ground cinnamon
½ teaspoon salt
6 tablespoons coconut oil
Directions:
For the crust, grind the graham crackers into crumbs in a food processor.
Combine the crumbs in a bowl with salt and spices.
Stir in the coconut oil and mix well until moistened. Press the crumbs into a 13 x 9 baking pan, forming an even layer on the bottom.
Bake the crust until lightly browned and firm, about 10 minutes.
Remove and cool on a rack.
Crumble into large chunks, Store in the freezer until ready to assemble, up to 4 weeks.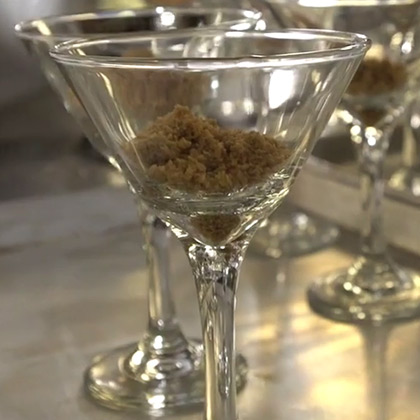 Parfait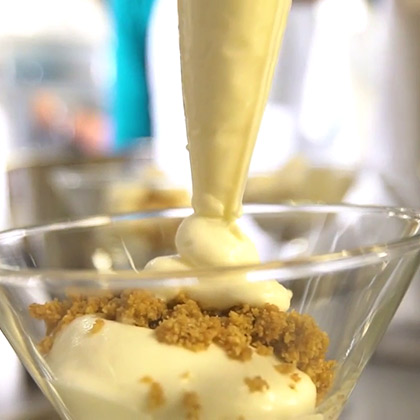 Ingredients:
8 ounces low fat cream cheese, softened to room temperature
2 tablespoons honey
2 tablespoons orange juice
4 egg whites
1 teaspoon vanilla extract
¼ cup powdered sugar
Fresh strawberries, as needed, about 1 quart for 6 people
1 tablespoon mint, chopped
Directions:
Combine the cream cheese, orange juice and sugar in a bowl. Mash with a whisk and whip until smooth.
In a separate bowl, add the egg whites and vanilla. Beat with a whisk until soft peaks form. Add the sugar and whip to firm peaks. Whisk one-third of the whipped egg whites into the cream cheese. Finish by folding in the final two-thirds in two separate batches.
Spoon the cream cheese mixture into 6 wine or martini glasses. Refrigerate until ready to serve.
Just before serving, toss the strawberries with the mint and place a large spoonful into each glass and top with the graham cracker crumbles.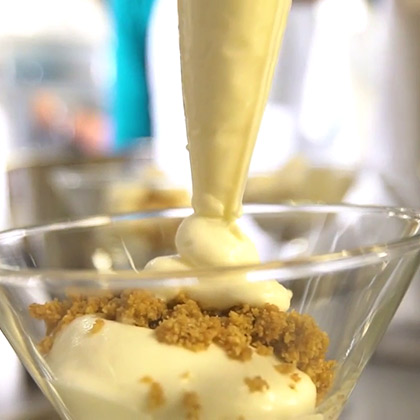 Recipes courtesy of the Institute of Culinary Education