Fifteen Years After 9/11, WTC Patients Continue Recovery
During a moving exhibit of 9/11 art at NYC Health + Hospitals/Bellevue, dozens of people treated at our health system's World Trade Center Environmental Health Center reflected on pain, remembrance, ongoing recovery, and healing.
The "Transformations in Time" exhibit featured 48 artworks by participants in an art therapy program that is just one component of the comprehensive medical and mental health services provided by the NYC Health + Hospitals' World Trade Center Environmental Health Center (WTC EHC).
This 9/11 health program is the only federally-sponsored Center of Excellence that treats residents, students, workers, or passersby, known as "Survivors," who were exposed to the dust cloud on 9/11, or to dust or smoke in the disaster area after 9/11. The center, which operates out of three NYC Health + Hospitals facilities – Bellevue, Elmhurst and Gouverneur – has helped improve the lives of more than 10,000 people.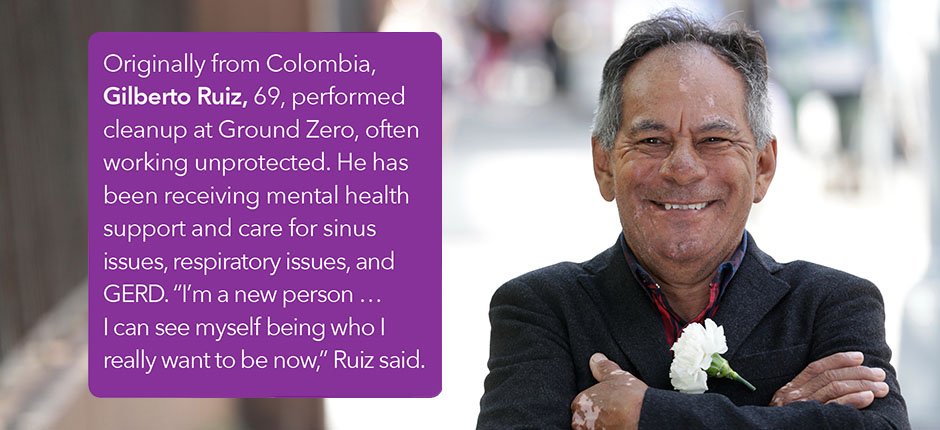 Based at NYC Health + Hospitals/Bellevue, the art therapy program helps 9/11 survivors still suffering from depression, anxiety, and post-traumatic stress disorder, said Irene Rosner David, PhD, Director of Therapeutic Arts, NYC Health + Hospitals/Bellevue. The program has helped more than 100 people since it began in 2004.
"Art therapy can encourage people to express and process these emotional effects," David said. "Our participants move on from the lingering cloud of that day and into a brighter present."/p>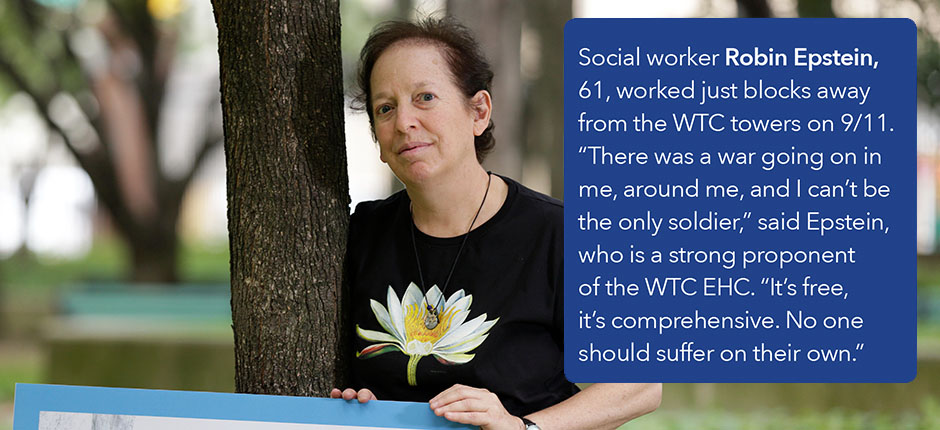 In addition to art therapy, the WTC EHC provides treatment for asthma, respiratory issues, sleeping disorders, and gastrointestinal illnesses.
At the Transformations in Time show, WTC EHC patients and art therapy participants gathered to share their experiences.
"The resiliency and the recovery by people who have gotten appropriate care is so evident in how their artwork has changed over time," said Terry Miles, Executive Director of the NYC Health + Hospitals WTC EHC. "Earlier on we were seeing darker tones, and now we're seeing bright, vivid colors, and representation of nature … flowers, trees – images that symbolize life, change, and growth."